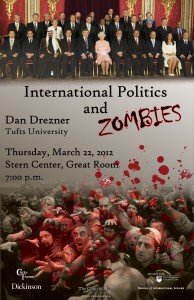 Professor of International Politics at the Fletcher School of Law and Diplomacy, Tufts University
International Politics and Zombies
Thursday, March 22, 2012
Stern Center, Great Room, 7:00 p.m.
Addressing timely issues with analytical bite, Drezner looks at how well-known theories from international relations might be applied to a war with zombies. He boldly lurches into the breach and "stress tests" the ways that different approaches to world politics would explain policy responses to the living dead. Drezner examines the most prominent international relations theories–including realism, liberalism, constructivism, and neoconservatism –and decomposes their predictions. Exploring the plots of popular zombie films, songs, and books, Theories of International Politics and Zombies predicts realistic scenarios for the political stage in the face of a zombie threat and considers how valid–or how rotten–such scenarios might be.
This event is jointly sponsored by The Clarke Forum for Contemporary Issues, Penn State Dickinson School of Law and the School of International Affairs.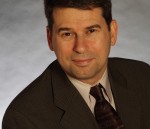 Biography (provided by the speaker)
Daniel W. Drezner is professor of international politics at the Fletcher School of Law and Diplomacy at Tufts University, a senior editor at The National Interest, and a contributing editor at Foreign Policy. Prior to Fletcher, he taught at the University of Chicago and the University of Colorado at Boulder. He has previously held positions with Civic Education Project, the RAND Corporation and the U.S. Department of the Treasury, and received fellowships from the German Marshall Fund of the United States, the Council on Foreign Relations, and Harvard University. Drezner has written four books, including All Politics is Global (Princeton, 2007), and edited two books, including Avoiding Trivia (Brookings, 2009). He has published articles in numerous scholarly journals as well as in the New York Times, Wall Street Journal, Washington Post, The New Republic, and Foreign Affairs. He is an occasional commentator for NPR's Marketplace, and keeps a daily blog for Foreign Policy magazine.
Related Links:
http://danieldrezner.com/zombies/
http://press.princeton.edu/titles/9388.html
http://motherjones.com/media/2011/02/egypt-afghanistan-iraq-zombies