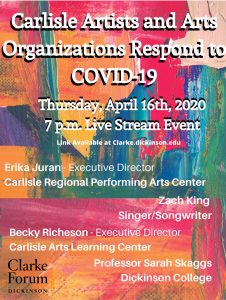 Thursday, April 16, 2020
Live Stream Event
Panelists
Erika Juran, Carlisle Regional Performing Arts Center
Zach King, Singer/Songwriter
Becky Richeson, Carlisle Arts Learning Center
Sarah Skaggs, Dickinson College
The Coronavirus Pandemic and resulting closure of non-essential businesses, the practice of social distancing and shelter-in-place orders have had serious impacts the lives of artists and arts organizations all across the country. In this discussion we will hear from a local musician and several arts organizations and find out how they are adjusting to this new reality.
The virtual panel will take place via Zoom and will be available for live streaming on the Clarke Forum's YouTube page or by visiting Clarke.dickinson.edu for the live stream link. Members of the public are invited to watch the discussion and submit questions for panelists in the comments section of the YouTube live stream.
This program is sponsored by the Clarke Forum for Contemporary Issues.
Biographies (provided by the participants)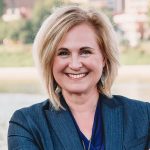 Erika Juran serves as Carlisle Regional Performing Arts Center's executive director. She has over 17 years of experience in nonprofit management with most of this experience in the arts sector, including service as a leader at an art museum and a regional arts council. She has been a servant leader of the arts in 9 counties across Pennsylvania through her various roles.
The Carlisle Regional Performing Arts Center, known locally as the Carlisle Theatre, is proud to offer cultural events serving Central Pennsylvania including concerts, performances, films, live theatrical productions, and programming for children and families. The Theatre celebrated its 80th anniversary in May 2019. They closed their doors to the public on March 13, 2020 due to the COVID-19 epidemic. To learn about their virtual programs and donation opportunities, visit http://carlisletheatre.org/.
Zach King is a singer-songwriter from Perry County, Pennsylvania, with a passion for traditional country music. He is also the director of Kingfish & Friends, an art collective that works with venues and artists dedicated to cultivating connections between the artist and the audience. This organization works to support, build and promote the arts scene through community engagement and fellowship. Their focus is integrity and teamwork to bring the audience to the music so the artist can plant the seed.
King has shared the stage with friends and heroes alike including David Allan Coe, Mac McAnally, J.P. Harris & The Tough Choices, The Davisson Brothers Band, Hello June, Honeysuckle and more.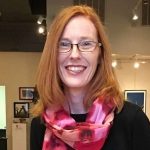 Becky Richeson is the executive director of the Carlisle Arts Learning Center (CALC). She is originally from Michigan and moved to Carlisle after earning her bachelor's degree from University of Michigan and master's degree from Michigan State University. Her focus is to use the power of art to build relationships and strengthen our community.  Richeson infuses her belief that collaboration is essential to a healthy community into all of her work with CALC.
Sarah Skaggs born in St.Louis and raised in Virginia, began her dance training at the age of four in ballet. She first studied modern dance with her teacher and mentor Eija Celli at Sweet Briar College where she earned a B.A. with Honors in Theatre Arts. During her twenty years in New York, she has studied the canonical modern dance techniques of Jose Limon and Erick Hawkins as well as several somatic techniques. She has received six Nation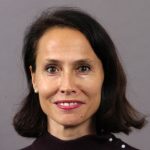 al Endowment for the Arts Choreography fellowships and two New York Foundation for the Arts Fellowships as well as the numerous grants from the Rockefeller, Culpeper, Jerome, Harkness, Greenwall, Dreyfus and Bulova Foundations. She has the honor of having a two page entry devoted to her in the International Dictionary of Modern Dance.
In addition to her extensive travel and teaching in Hong Kong, Prague, Taipei and Bali her work has been produced by The Joyce Theatre's "Altogether Different" series, Lincoln Center Festival, The Andy Warhol Museum, DancePlace DC, Dance Theatre Workshop, Danspace Project, The Kitchen, PS 122,  Jacob's Pillow, Atlantic Center for the Arts, Dublin Arts Festival and most recently at the Society of Dance History Scholars conference at Stanford University. She has served on the Board of Directors of The Danspace Project at St.Mark's Church in New York since 1992. She holds an MFA in Dance Studies from Hollins University/American Dance Festival. Currently, she is the director of the dance program at Dickinson College in Carlisle, Pennsylvania.
Her choreographic investigations over many years has focused on the intersection between social and concert dance and between the spectator and performer.  From these investigations, she has created many non-proscenium-site specific works that have been performed in gymnasiums, parking lots, parks and dance clubs—spaces that allow for kinetic collisions of the social, spiritual and sensual.  In 2011, she expanded her post 9/11 work Dances for Airports into a large scale public art project or "roving memorial" that was performed simultaneously in three locations, NYC, PA, and DC for the ten year anniversary of September 11th. Currently, she is working on a new project, iHowl, that deals with violence, language and the body.
Video of the Presentation