Founder of Archer Gray Productions 
The Inevitable Defeat of Mister and Pete
(Film Screening and Q&A with Amy Nauiokas '94, an executive producer of the film)
Friday, October 25, 2013
Althouse Hall, Room 106, 4 p.m.
The Inevitable Defeat of Mister and Pete follows 14-year-old Mister (Skylan Brooks) and nine-year-old Pete (Ethan Dizion) during a sweltering New York City summer, after the arrest and detention of Mister's mother (Jennifer Hudson) forces the unlikely duo to forage for food while dodging child protective services and the destructive scenarios of the Brooklyn projects. Jeffrey Wright (Casino Royale, The Manchurian Candidate), Jordin Sparks (American Idol), and Anthony Mackie (The Hurt Locker, Million Dollar Baby) also star. The film premiered at the 2013 Sundance Film Festival, where Manohla Dargis, film critic for The New York Times, called the film a "beautiful…touching melodrama." Amy Nauiokas '94 is one of the film's executive producers, along with Alicia Keys, who also wrote the film's score. Nauiokas, whose career has taken her from the boardroom at Barclays Bank to a lucrative career as a producer and venture capitalist, will take questions from the audience after the screening.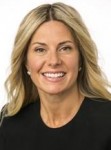 Biography of Amy Nauiokas
Amy Nauiokas is a visionary executive, venture capitalist and recognized leader in leveraging technology to create new value and opportunities from inefficient markets and industries.
As a venture capitalist, Amy identifies and invests in early stage technology companies focused on the disruption of media, financial services and real estate. Her early investments, both personally and as a co-founder of the venture capital firm Anthemis Group SA, include Zoopla, the UK's leading property research website, and Climate Corporation, which was sold to Monsanto in October 2013 for £930m.
Amy is also Founder and CEO of Archer Gray, an independent production and investment company. Amy's recent projects include the Broadway musical ONCE, winner of 8 Tony Awards, the smash play Seminar and the film The Inevitable Defeat Of Mister And Pete, which premiered at the Sundance Film Festival in 2012.
Amy was previously Managing Director and CEO of Barclays Stockbrokers, the UK's largest electronic retail broker with £10 billion assets under management. While at Barclays Stockbrokers, Amy successfully transformed the business from a share-dealing service into a multi-product, global financial services portal, growing revenue 40% in under two years.
She joined Barclays Group in 2004 where, as Head of Electronic Sales & Trading at Barclays Capital, she was credited for driving significant expansion and adoption of the firm's electronic products and markets to institutional clients globally.
Before joining Barclays, Amy was Senior Managing Director and Partner at Cantor Fitzgerald. At Cantor, Amy was she was part of the management team responsible for driving Cantor's brokerage business online. In 1999, she led the successful IPO of Cantor's online business eSpeed, Inc., which was later sold to NASDAQ for $750m. Amy also played a critical role in the company's rebuilding efforts after September 11th, serving as Head of Investor Relations, Global Marketing, Business Development and Human Resources for the firm.
In 2010 Amy Co-Founded the Bubble Foundation, a 501(c)(3) organization partnering with New York City charter schools to provide at risk children with access to activities and food that help him or her to live a healthy life. Amy also serves as the International Board Chair of Make-A-Wish®, and is a member of the Dickinson College Board of Trustees.
Amy received her Master's in International Business from Columbia University, and graduated from Dickinson College in 1994 with a BA in International Studies. In 2007 and 2008 she was named one of the Financial News' Top 100 Rising Stars, Forbes' 40 Under Forty: Ones to Watch and Global Finance's Top 20 Women in Wealth Management.