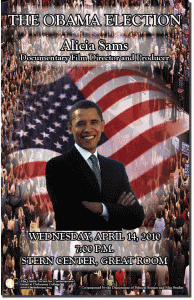 Documentary Film Director and Producer
The Obama Election
Wednesday, April 14, 2010
Stern Center, Great Room, 7:00 p.m.
By the People: The Election of Barack Obama is a behind-the-scenes documentary of the Obama campaign. Director Alicia Sams will discuss the making of the film and the insights she gained from being on the campaign trail with the candidate, organizers and the traveling press.
Co-sponsored by the Departments of Political Science and Film Studies.
About the Speaker
Alicia Sams has extensive experience working in both documentary and fiction films. Her most recent film as director is By the People: The Election of Barack Obama, which chronicles the journey of Barack Obama from before the announcement of his Presidential campaign to the White House, and premiered on HBO in November, 2009. Also released in 2009 was the award-winning narrative feature AMREEKA, for which she was executive producer. In 2006, she produced two feature-length documentaries: Wanderlust, a film about road movies for IFC; and the theatrical release Toots, about legendary NY saloonkeeper Toots Shor. Prior to that, she produced the Sony Pictures Classics release Grateful Dawg, independent documentary Off the Menu: The Last Days of Chasen's (released by Northern Arts), the AMC television special Hello He Lied, And Other Truths from the Hollywood Trenches, the Sundance Channel series Keeping Time: New Music from America's Roots, among others. She was post-production supervisor for Chocolat, The Shipping News, and The Original Kings of Comedy and co-produced Nelson Hume's debut feature Sunburn. She began her career working on documentaries for Bill Moyers Public Affairs Television and the PBS series' American Masters and Great Performances.
Video of the Program