Virtual Presentation in Anita Tuvin Schlechter Auditorium (ATS), 7 p.m.
(No recording of this live-stream will be available after the program)
Our Languages Belong Here: Indigenous Language Revitalization in Urban Contexts
Lindsay Morcom, associate professor and Canada Research Chair in Language Revitalization and Decolonizing Education, Queen's University (Canada)
This talk will give an overview of the Indigenous languages of Turtle Island, and about the need for language revitalization. Morcom will then examine how language revitalization can be done in urban contexts, and why urban language revitalization is so important.
This program is sponsored by the Clarke Forum for Contemporary Issues and co-sponsored by the departments of English; American studies; Middle East studies; anthropology & archaeology; and Latin American, Latinx & Caribbean studies. This program was initiated by the Clarke Forum's student project managers.
Topic Overview by Rebecca Fox '22
Biography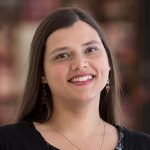 Dr. Lindsay Morcom is an interdisciplinary researcher with experience in education, Aboriginal languages, language revitalization, and linguistics. She earned her master's degree in linguistics at First Nations University through the University of Regina in 2006. She then completed her doctorate in general linguistics and comparative philology as a Rhodes Scholar at Oxford University in 2010.
From 2014-2019 she coordinated the campus-based and community-based iterations Aboriginal Teacher Education Program at Queen's University in Kingston, Ontario, Canada. During this time she was also a professor in the Faculty of Education. She is now an associate professor and Canada Research Chair in Language Revitalization and Decolonizing Education. She embraces her mixed Anishinaabe, Black Sea German, and French heritage, and the responsibilities to reconciliation that mixed heritage brings. She is a member of Ardoch Algonquin First Nation.