Anita Tuvin Schlechter Auditorium, 7 p.m.
Video of the Presentation is Available on House Divided's YouTube Channel
Constitution Day Conversation
The Past and Future of the Political Supreme Court
Rachel Shelden                             John E. Jones III

Penn State University                       Dickinson
To commemorate Constitution Day in 2022, Dickinson College will feature President John E. Jones III, a retired federal judge, in a wide-ranging constitutional conversation with noted political historian Rachel Shelden. Jones and Shelden will help put several of the current bitter controversies over democratic elections, abortion, and judicial partisanship into revealing historical context.
This program is sponsored by the Clarke Forum for Contemporary Issues and the House Divided Project. It is also part of the Clarke Forum's Leadership in an Age of Uncertainty Series.
Biographies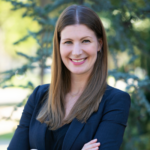 Rachel Shelden
is an associate professor at Penn State University and the director of the George and Ann Richards Civil War Era Center. Her work centers on the long U.S. Civil War era with a focus on politics, culture, slavery, constitutionalism, and law. Her first book,
Washington Brotherhood: Politics, Social Life, and the Coming of the Civil War
, examines how the social lives of federal politicians in Washington created a political fraternity that left them unprepared for and surprised by the secession crisis. Her current book project, entitled
The Political Supreme Court
, examines the political world of U.S. Supreme Court justices from the early nineteenth century to the 1890s. You can learn more about this project from some of her public writing and speaking. Shelden teach courses on the Civil War era, the history of U.S. slavery, constitutional history, and the memory and culture of the mid-nineteenth century. As the director of the Richards Center, Shelden oversees several important projects including the flagship journal of the period
The Journal of the Civil War Era
, the annual Brose Lecture Series, and a prominent post-doctoral fellowship program. She is also the series editor for the Brose Book Series at the University of North Carolina Press. Before coming to Penn State, Shelden was an associate professor at the University of Oklahoma (OU) and an affiliated faculty member at the Institute for the American Constitutional Heritage at OU.
John E. Jones III '77, P'11, was officially named the college's 30th president on Feb. 28, 2022. He was named interim president of Dickinson in summer 2021. Jones previously served as chair of Dickinson's board of trustees and retired as chief judge of the U.S. Middle District Court of Pennsylvania, a position to which he was appointed by President George W. Bush and unanimously confirmed by the United States Senate in 2002.
Jones has presided over a number of high-profile cases, including the landmark case of Kitzmiller v. Dover School District, after which he held that it was unconstitutional to teach intelligent design within a public school science curriculum. He also resolved the matter of Whitewood v. Wolf by striking down as unconstitutional Pennsylvania's ban on same-sex marriage. Jones co-chaired Pennsylvania Governor-elect Tom Ridge's transition team and served as chair of the Pennsylvania Liquor Control Board.
 Jones has received numerous accolades during his career. In 2006, Time Magazine named him as one of its Time 100 most influential people in the world. He was the recipient of the first John Marshall Judicial Independence Award given by the Pennsylvania Bar Association. He also received the Geological Society of America's President's Medal and was inducted into the George Washington Spirit Society. An engaged alumnus and champion of the liberal arts, Jones was presented with an honorary doctorate in law and public policy from Dickinson College, where he also was recognized as one of the 25 most influential graduates in the college's history.
 Born and raised in Schuylkill County, Pennsylvania, he is a graduate of Mercersburg Academy, Dickinson College and Penn State Dickinson Law. He and his wife Beth have two children, Meghan and John '11, and three grandchildren.
Related Links
Recent opinion essays by Rachel Shelden
Recent opinion essays by John E. Jones III
Winfield C. Cook Constitution Day Program
The annual program is endowed through the generosity of Winfield C. Cook, former Dickinson Trustee. Each year the Clarke Forum invites a prominent public figure to campus to speak on a contemporary issue related to the Constitution. The event celebrates the signing of the United States Constitution and commemorates Dickinson's connection to that document, through John Dickinson's participation as an original signer. Previous speakers have included Kenneth Starr, Ira Glasser, Lowell Weicker, Marjorie Rendell, Tom Ridge, Michael Chertoff, Kimberlé Crenshaw, and Ibram X. Kendi.