Carlisle Theatre, 40 W. High Street, 7 p.m.
Film Screening of Retrograde
Baktash Ahadi, Filmmaker
Asem Shukoori, Film Subject
Farida Mohammadi, Afghan Female Tactical Platoon
Retrograde captures the final nine months of America's 20-year war in Afghanistan from multiple perspectives: one of the last U.S. Special Forces units deployed there, a young Afghan general and his corps fighting to defend their homeland against all odds, and the civilians desperately attempting to flee as the country collapses and the Taliban take over. From rarely seen operational control rooms to the frontlines of battle to the chaotic Kabul airport during the final U.S. withdrawal, this Oscar-Shortlisted film offers a cinematic and historic window onto the end of America's longest war, and the costs endured for those most intimately involved. A Q&A featuring the film's executive producer will follow the screening.
The film showing is sponsored by the Clarke Forum for Contemporary Issues and the Carlisle Theatre.
Biographies (provided by the speakers) are forthcoming.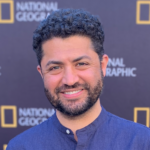 Baktash Ahadi is an award-winning documentary filmmaker, storyteller, and executive leadership coach. He was born in Kabul in 1981, and his family fled during the Soviet invasion in 1984. After spending nearly two years in Pakistan between refugee camps and makeshift homes, his family was given asylum in the United States, where they started their new life in Carlisle, Pennsylvania.
The tragic events of 9/11 led Ahadi to serve in the Peace Corps in Mozambique and return to Afghanistan to serve as a combat interpreter with the Marines for three years. His experience not only brought him closer to his roots but also instilled a passion for storytelling to shed light on the complexities of the human condition. As a result, he founded The Taleem Project, which is dedicated to telling human stories of forced migration, conflict, refugees, and vulnerable and underrepresented communities. He has produced, translated and contributed to the following documentary films: Frame by Frame, Afghanistan by Choice, With This Breath I Fly and Muslim in Trump's America. These films have screened at SXSW Film Festival, Telluride Film Festival, Hot Docs, BFI London Film Festival, AFI DOCS and hundreds of other festivals. Moreover, these films have won dozens of jury and audience awards, Cinema Eye Honors nominations, and the Peabody Award.
He speaks to audiences around the world and has been featured in The New York Times, Washington Post, National Public Radio (NPR), Business Insider, BBC, TIME Magazine, and The Atlantic. He is currently at work directing a film about veterans, mental health, and equine therapy.
Asem Shukoori (biography forthcoming)