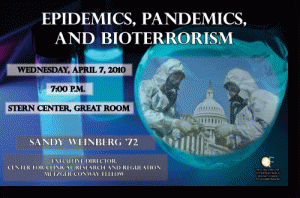 Executive Director, Center for Clinical Research and Regulation; Metzger-Conway Fellow
Epidemics, Pandemics, and Bioterrorism
Wednesday, April 7, 2010
Stern Center, Great Room, 7:00 p.m.
* This event is part of the Clarke Forum's series on Leadership in an Age of Uncertainty.
This lecture will discuss the potentially disastrous consequences that epidemics, pandemics, and incidents of bioterrorism could have on public health along with the political and sociological aspects of these types of major catastrophes.
About the Speaker
Dr. Weinberg is an associate professor of Health Care Management, and executive director of the Center for Clinical Research and Regulation and of the Center for Superdemic Management. He edits two international journals, one related to each Center: The Journal of Superdemic Management (ILeibert Press), and the Journal of Clinical Research and Regulatory Affairs (Informa Press). Dr. Weinberg has also authored fifteen books (most recent, Guidebook for Drug Regulatory Submissions, Wiley, 2009) and more than one hundred articles and papers. He is a regulatory columnist for Medical Device Summit and for the Journal of Scientific Computing.
Sandy is a retired biomedical entrepreneur, having launched and grown six successful international drug development, medical device, and bioinformatics companies; and served as senior director for BioDefense for GE Healthcare. He serves on committees of the National Institutes of Health (NIH) and the Centers for Disease Control and Prevention (CDC).
Video of the Program