Founder and Creative Director of Dancing Ink Productions
Nothing to Hide?
Tuesday, September 27, 2011
Stern Center, Great Room, 7:00 p.m.
While Facebook has served as a catalyst for discussions about privacy issues, it's only one aspect of a major shift permeating the world. Platforms come and go but privacy issues continue to influence and shape modern life. Perceptions of what privacy is and what it's worth are changing. In addition to internet privacy issues, urban environments are increasingly filled with surveillance cameras. Nearly everybody on the street is carrying a mobile device, maybe capturing some fragment of your story arc in the form of an image or overheard snippet of conversation. Digital algorithms can piece together the puzzle of your life by recognizing your patterns, habits and even your face. How will the construction of identity and society be affected? How will *you* be affected?
This event is co-sponsored by the Departments of American Studies, Math and Computer Science and Sociology.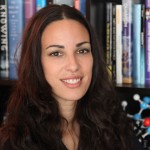 Biography (provided by the speaker)
Rita J. King is a writer, conceptual artist and entrepreneur. As the executive vice president of business development at Science House and founder of Dancing Ink Productions, her work centers on the development of a new global culture and economy in what she calls the Imagination Age–a fleeting period between the fading industrial era and the coming hybrid reality during which we have a collective opportunity to create the best possible future we can imagine. As an expert on technogenic disaster (the consequences and possible outcomes of the by-products of technology such as nuclear waste, climate change and artificial intelligence) she feels we are obligated to try. She's a senior fellow for Social Networking and Immersive Technologies at the Center of the Study of the Presidency and Congress in Washington, DC and Innovator-in-Residence at IBM Analytics Virtual Center.

Related Links
http://sciencehouse.com/
http://dancinginkproductions.com/
Rita J. King at TEDxNASA: "Creativity and Design of Identity and Community" http://bit.ly/pxTsee
Rita's blogposts about Facebook:
http://www.theimaginationage.net/2010/10/hide-and-seek.html
Rita J. King in The New York Times
Cyberspace When You're Dead – NYTimes.com http://nyti.ms/pAugGR
Rita J. King on PBS
Meeting Stories | My First Digital Death: The Technology of Consciousness http://bit.ly/o6Ay4I
Interview with Rita J. King in the Future of Facebook Project
The Future of Facebook and Digital Graveyards http://bit.ly/rgsRAM