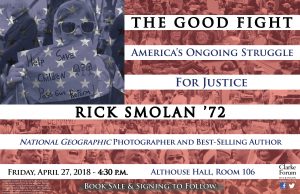 New York Times Best-Selling Author and National Geographic Photographer
The Good Fight: America's Ongoing Struggle for Justice
Friday, April 27,  2018
Althouse Hall, Room 106, 4:30 p.m.
Smolan will share images and stories from his new book The Good Fight. The book captures the sporadically violent, often triumphant, always risky struggles of Americans who have experienced hatred, oppression or bigotry because of their gender, skin color, country of origin, religion, sexual orientation, disability or beliefs over the past 100 years. A book sale and signing will follow the presentation.
This event is sponsored by the Clarke Forum for Contemporary Issues.
Biography (provided by the speaker)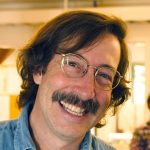 Rick Smolan, CEO of Against All Odds Productions is a New York Times best-selling author   with more than five million copies of his books in print.  A former Time, Life, and National Geographic photographer, Smolan is best known as the co-creator of the "Day in the Life" book series.  His global photography projects, which feature the work of hundreds of the worlds leading photographers and combine creative storytelling with state-of-the-art technology, are regularly featured on the covers of prestigious publications around the globe including Fortune, Time, and GEO. His latest book, The Good Fight:  American's Ongoing Struggle for Justice, is a powerful reminder of how much progress America has made over the past 100 years against hatred, bigotry, racism, misogyny, homophobia and injustice and what's at risk right now. Smolan has spoken at TED, The Davos World Economic Forum, The Ford Foundation, The Wired Health Conference, TEDMED, Techonomy, DLD in Munich, IdeaCity in Canada, INK in India. His TED talk "Natasha's Story: An American Homecoming" has been watched by more than a million people.  American 24/7, a New York Times bestseller, enabled thousands of Americans to create a national family album during one ordinary week, and was featured as one of Oprah Winfrey's "Favorite Things." In the fall of 2012 Smolan released The Human Face of Big Data focusing on humanity's new ability to collect, analyze, triangulate and visualize vast amounts of data in real time. The project, sponsored by EMC, Cisco and SAP resulted in a large format book, an iPad app which won a 2013 WEBBY award, and an award-winning PBS TV special. The book was delivered to 10,000 key influencers in 50 countries courtesy of FedEx.  In 2014 the Oscar Winning Producers of The Kings Speech released TRACKS based on Smolan National Geographic cover story about 27-year-old Robyn Davidson's 1,700 mile nine-month solo camel trek across the treacherous Australian Outback. In the movie Robyn Davidson was portrayed by Mia Wasikowska (Stoker, The Kids are Alright, Alice in Wonderland). Smolan was portrayed by Adam Driver, (Kylo Ren in Star Wars).  Fortune magazine describes Smolan's company, Against All Odds as "One of the 25 Coolest Companies in America."
Related Links
The Good Fight became one of Amazons top 100 books within a week after it was released and it just sold out of its second printing
It was recently featured in New York Times
CBS did this terrific segment
TED just sent copies to all 1,500 members as the official TED BOOKCLUB selection
People Magazine chose it as one of the 10 best gift books of the year
The book comes with a free THE GOOD FIGHT VIEWER app that enables readers to point their phones at any one of 63 photographs to immediately stream short compelling videos that expand each story
Video of the Lecture