Award-winning science writer; professor of English, University of Memphis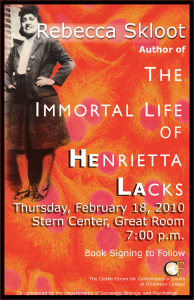 The Immortal Life of Henrietta Lacks
Thursday, February 18, 2010
Stern Center, Great Room, 7:00 p.m
Rebecca Skloot discusses her new book, The Immortal Life of Henrietta Lacks, a story inextricably linked to the dark history of experimentation on African Americans, the birth of bioethics, and the legal battles that could determine whether we own the stuff we are made of. A booksigning will follow the presentation.
Co-sponsored by the Departments of Biology, Sociology and Psychology
Topical Background
Born in 1920, Henrietta Lacks, a mother of five, was a native of rural southern Virginia whose family grew tobacco. She was diagnosed with cervical cancer at Johns Hopkins Hospital and died on October 4, 1951 at the age of thirty-one.
While at Johns Hopkins Hospital, researchers took a biopsy of her tumor without her knowledge or permission. The cells, named "HeLa" for Henrietta Lacks, multiplied outside her body at an unprecedented rate. Because they can potentially divide an unlimited number of times in a laboratory setting, HeLa cells have been described as "immortal". "If you could pile all HeLa cells ever grown onto a scale, they'd weigh more than 50 million metric tons—as much as a hundred Empire State Buildings."(Skloot)
HeLa cells were vital for developing the polio vaccine and new treatment for cancer, AIDS, in vitro fertilization, cloning, and gene mapping. Henrietta's family did not learn of her "immortality" until more than twenty years after her death, when scientists investigating HeLa began using her husband and children in research without their informed consent. HeLa cells have been bought and sold by the billion, but her family never saw any of the profits. California court has held that biopsied tissues are not the property of the person from which they were taken, and therefore, can be purchased and sold as commodities.
About the Speaker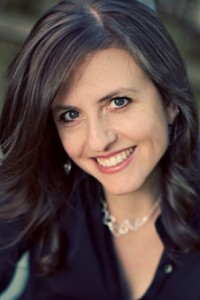 Rebecca Skloot is an award-winning science writer whose articles have appeared in The New York Times Magazine; O, The Oprah Magazine; Discover; Prevention; Glamour; and others. She has worked as a correspondent for NPR's Radio Lab and PBS's Nova ScienceNOW, and is a contributing editor at Popular Science magazine. Her work has been anthologized in several collections, including The Best Food Writing and The Best Creative Nonfiction. She is a former vice president of the National Book Critics Circle, and is on the faculty at the University of Memphis, where she teaches creative nonfiction. She blogs about science, life, and writing at Culture Dish, hosted by Seed magazine. For more information,visit www.rebeccaskloot.com.