Anita Tuvin Schlechter Auditorium, 7 p.m.
Keynote for Dickinson's Multifaith Week
Public Engagement, Organizing, and the Role of Faith-Based Institutions
Michael Pappas '83, Executive Director of San

 

Francisco Interfaith Council
What is the role of religious and spiritual based communities in advocacy work? In a society which is encountering Christian nationalism, religious extremism, and growing resentment of religion in the public sphere, much of higher education has sought to move away from engagement with religion. Today's religious and spiritual communities though continue to represent some of the core realms of advocacy work and organizing. Many in higher education attribute religion as being a topic to be avoided, but without the role of religious organizations and the compelling narratives that drive faith-based communities into activism, many in society would be left without a way to engage on larger issues of social concern. This lecture with Dickinson alum Michael Pappas seeks to elevate a conversation around how and why religious and spiritual communities continue to matter in society, their historic as well as present work in communities, and the ways in which individuals can themselves consider careers that coalesce around religion, government, social justice, and public policy. The talk will be followed by an interview  conducted by J. Cody Nielsen, director of the Center for Spirituality & Social Justice.
The event is the final and culminating event in the weeklong annual Multifaith Week, which highlights a variety of religious communities, activities, and realm of equity and advocacy on campus and throughout society.
This event is sponsored by the Clarke Forum for Contemporary Issues and co-sponsored by the Center for Spirituality & Social Justice, the Asbell Center for Jewish Life, and the Department of Religion.
Biography (provided by the speaker)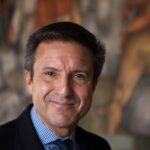 Michael G. Pappas  was born in Glen Ridge, New Jersey. He graduated from Dickinson College in 1983, after which he successively worked as a lobbyist, regional field director for a presidential campaign and investment banker for the oldest municipal bond firm in New Jersey. In 1987, he left the world of politics & finance and enrolled at Holy Cross Greek Orthodox School of Theology (Brookline, MA) attaining an M.Div., with honors, in the class of 1992. An ordained priest of the Greek Orthodox Church, Michael served parishes in Palos Hills, IL, Stockton, CA, and San Francisco, CA. During his sixteen-year ministry, he was a prolific writer, contributing articles to numerous religious and secular periodicals. As well, he devoted energy to work with the homeless and further ecumenical and interfaith relationships. After transitioning from parish ministry in 2007, he was selected by the San Francisco Interfaith Council to the newly created administrative post of executive director. In his tenure as executive director Pappas has helped increase the council's budget and programs substantially; strengthened existing and cultivated new relationships with civic leaders, NGOs, judicatories and congregations; and significantly projected the SFIC through expanded use of technology.
His previous/current board memberships include: mayoral appointments to the San Francisco Aging & Adult Services Commission, San Francisco Human Rights Commission, San Francisco Disaster Council, San Francisco Office of Civic Engagement's 2010 & 2020 Census Complete Count Committees, and San Francisco Assisi Sister City Committee. He has also served as a board member of the National Shrine of Saint Francis of Assisi; board of directors & program committee chair of the Interfaith Center at the Presidio; The San Francisco Foundation FAITHS Advisory Board; Episcopal Charities Board of Trustees; San Francisco Night Ministry Advisory Board; United Religions Initiative (URI) North America Region Leadership Council and Global Council Trustee; member of the Board of Directors of the American Red Cross Bay Area Chapter; Aspen Institute Religious Pluralism & Multifaith Engagement Cohort.
Video of the Presentation