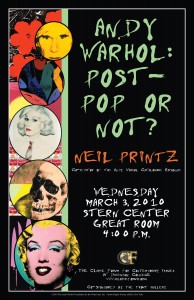 Art Historian, co-editor of the Andy Warhol Catalogue Raisonné
Andy Warhol: Post-Pop or Not?
Wednesday, March 3, 2010
Stern Center, Great Room, 4:00 p.m.
Printz considers Warhol's work after the 1960s in light of photographs and the works of art recently donated to Dickinson College by the Andy Warhol Foundation for the Visual Arts' Photographic Legacy Program.
This event is co-sponsored by The Trout Gallery.
Topical Background
Born Andrew Warhola in Pittsburgh, Pennsylvania in 1928, Andy Warhol became one of the most influential artists of the 20th century. Known mainly as a leading figure in the Pop Art movement, Warhol is also recognized for his work as an avant-garde film maker, record producer, author, and public figure. By the time of his death in 1987, Warhol coined the popular phrase "15 minutes of fame," sold his canvas Eight Elvises for $100 million dollars, and was identified by the media as the "Prince of Pop."
Warhol showed early artistic talent at the Carnegie Institute of Technology, known today as Carnegie Mellon University. He then worked in New York as an illustrator for various magazines including Harper's Bazaar, Vogue, Glamour, and The New Yorker. As Warhol became more concerned with turning his "high art" into a form of mass production in the 1960's, he created The Factory in New York, which used silkscreen painting to reproduce his work for mass consumption. By the end of the 1960's, Warhol had produced some of his most popular images of iconic American products and celebrities such as the Campbell's Soup Cans, Coca-Cola Bottles, Elvis Presley, Mohammed Ali, and Elizabeth Taylor. Also around this time, Warhol created his first underground film, Sleep, which depicted a man sleeping for 6 hours.
In his hometown of Pittsburgh, Pennsylvania, The Andy Warhol Museum commemorates his life and art. The Warhol Museum opened in 1994 and features an extensive collection of more than 12,000 works of art by Warhol, including paintings, drawings, prints, photographs, sculpture, film, and videotapes.
About the Speaker
Neil Printz has been the co-editor of the Andy Warhol Catalogue Raisonné since 1993. Each volume of the Catalogue Raisonné documents all of Warhol's paintings, sculptures, and drawings during a particular time and also discusses his source materials and working materials.
Printz earned his B.A. and M.A. in art history from the University of Michigan. He then went on to earn his M. Phil. and Ph.D. in art history from the Graduate Center at the City University of New York.
From 1995-2004, Printz was a member of the board of directors for the Andy Warhol Authentication Board and from 1999-2004, he was the editor of Isamu Noguchi Catalogue Raisonné. Printz has also been an assistant professor of art history at Caldwell College and a Henry Luce Visiting Scholar of American Art at Brandeis University's Rose Art Museum.