Georgetown Law
Talk is Trump and the Rule of Law
Wednesday, September 26, 2018
Anita Tuvin Schlechter Auditorium, 7 p.m.
Neal Katyal, former acting solicitor general of the United States, will be discussing the Supreme Court, President Trump, the Mueller investigation, and the rule of law in a wide ranging discussion.
This event is sponsored by the Clarke Forum for Contemporary Issues and Penn State's Dickinson Law and co-sponsored by the Departments of Political Science and History.
Biography (provided by the speaker)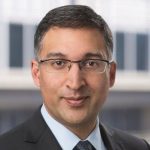 Neal Katyal is the Paul and Patricia Saunders Professor of Law at Georgetown University and a partner at Hogan Lovells. He previously served as acting solicitor general of the United States. He has argued 37 cases before the Supreme Court of the United States, with 35 of them in the last 9 years. Most recently, Neal argued the "Travel ban" case on behalf of the State of Hawaii against President Trump in the Supreme Court of the United States. In the 2016-17 term alone, Neal argued 7 cases in 6 separate arguments at the Supreme Court, far more than any other advocate in the nation – nearly 10% of the docket. At the age of 48, he has already argued more Supreme Court cases in U.S. history than has any minority attorney, recently breaking the record held by Thurgood Marshall. His numerous distinctions include: the Edmund Randolph Award (the highest civilian award given by U.S. Department of Justice), The Litigator of the Year by American Lawyer (2017, chosen as the sole Grand Prize Winner of all the lawyers in the United States), Appellate MVP by Law360 numerous times (most recently in 2017), winner of Financial Times Innovative Lawyer Award in two different categories (both private and public law) (2017), one of GQ's Men of the Year (2017), 40 Most Influential Lawyers of the Last Decade Nationwide by National Law Journal (2010), and 90 Greatest Washington Lawyers Over the Last 30 Years by Legal Times (2008). He has appeared on virtually every major American news program, as well as on Stephen Colbert and House of Cards on Netflix (where he played himself).
Video of the Lecture