Wednesday, October 26, 2005
Memory, Counter-Memory, and the End of the Monument after 9/11
Stern Center, Great Room, 7:00 p.m.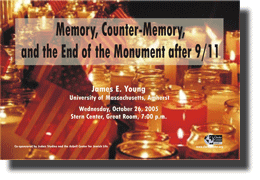 Issue in Context
Constructing monuments to commemorate tragedies such as the Holocaust and 9/11 can trigger intense debate as designers strive to represent the collective memory of a grieving nation. Much of the controversy stems from the aesthetic and political dilemmas involved in creating national monuments. The United States and Germany recently faced such predicaments while constructing the World Trade Center Site Memorial in New York City and the National Holocaust Memorial in Berlin . The memorials in both countries strive to convey the full spectrum of citizens' sentiments, but each monument has received criticism for falling short. Since historical events are open to so many interpretations, one wonders if it is possible to construct a monument that captures the full range of emotion and memory.
About the Speaker
James E. Young is a renowned scholar of Holocaust remembrance and an internationally recognized expert on memorial architecture. He was appointed to the selection committees for both the National Holocaust Memorial in Berlin and the World Trade Center Site Memorial in New York City .
Young has written numerous articles concerning national memory which have appeared in The New York Times Magazine, The Los Angeles Times, and The Chicago Tribune. His findings have been published worldwide in six languages. Young is the recipient of many awards and fellowships, and was appointed as editor-in-chief of the Posen Library of Jewish Culture and Civilization. He is currently professor of English and Judaic Studies at the University of Massachusetts, Amherst, and is chair of the Department of Judaic and Near Eastern Studies.
Related Links
• James E. Young's Biography
• World Trade Center Site Memorial
• National Holocaust Memorial