Tuesday, November 29, 2005
2005 Rush Award
Liberal Arts Education, Leadership and Business Management
Stern Center, Great Room, 7:00 p.m.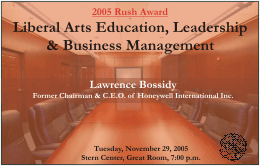 Issue in Context
Marvin Suomi of the Kajima Corporation once said "Somehow we have failed miserably in communicating to students and parents the importance of a well-rounded education in the business world. Today, perhaps more than ever, we need the depth of perspective that a liberal arts education can bring to decision making, product development, leadership, and other dimensions of business."
Based on Mr. Suomi's statement, one can easily begin to understand how much the business world has evolved in just a few decades. In the past, there was a clear bias within firms where specialized education was strongly preferred to liberal arts education in terms of background for employment. However, as the job market has evolved, so have the criteria for employment. Increasingly, firms are looking for individuals who exhibit skills in problem solving, the capacity for cross-cultural understanding, and the ability to place key decisions in broader social and historical contexts.
As more corporations become multi-national, the demand for liberal arts educated analysts in the business world continues to soar. The value of better understanding of human nature and culture, and the capacity for ethical, values-based decision making within a changing environment have become key attributes that today's employers seek. Today's evolving society and labor-market now require a balance between specialized and liberal education.
About the Speaker
Lawrence A. Bossidy was elected Chairman and Chief Executive Officer of Honeywell International Inc. on July 3, 2001. Mr. Bossidy had served as Chairman and CEO of AlliedSignal from 1991 to 1999, when he became Chairman of Honeywell following the historic merger of AlliedSignal and Honeywell in December, 1999. He retired from the company in April 2000. He is credited with transforming AlliedSignal into one of the world's most admired companies, whose success was largely driven by an intense focus on growth and Six Sigma-driven productivity. During his tenure with AlliedSignal the company achieved consistent growth in earnings and cash flow, highlighted by 31 consecutive quarters of earnings-per-share growth of 13% or more. Before joining AlliedSignal, Mr. Bossidy served in a number of executive and financial positions with General Electric Company, which he joined as a trainee in 1957. He was Chief Operating Officer of General Electric Credit Corporation (now GE Capital Corporation) from 1979 to 1981, Executive Vice President and President of GE's Services and Materials Sector from 1981 to 1984, and Vice Chairman and Executive Officer of General Electric Company from 1984 to July 1991.
Mr. Bossidy was born in Pittsfield, Massachusetts and is a graduate of Colgate University.