AIDS: Lest We Forget
A series of events to mark World AIDS Day. Co-sponsored by the Office of Campus Academic Life, Department of Biology and the Health and Wellness Committee.
Wednesday, November 30, 2005

Part I: 12:00 p.m. AIDS Quilt Opening Ceremony and Unveiling
Part II: 7:00 p.m. Film: And the Band Played On – A story of discovery of the AIDS virus. From the early days in 1978 when numerous San Francisco gays began dying from unknown causes, to the identification of the HIV Virus.

Thursday, December 1, 2005

Part III: 12:00 p.m. Common Hour Panel Discussion – The science and policies surrounding global and domestic AIDS.
James A. Hoxie, University of Pennsylvania, Phil Goropoulos, AIDS Community Alliance.
Special: 5:30 p.m . Bloodlines Viewing and Dinner Discussion – Heterosexual HIV
View Bloodlines – a 20 minute documentary developed by two young women who contracted AIDS followed by a discussion led by Philip Goropoulos '97, CEO and president of AIDS Community Alliance.
Part IV: 7:00 p.m. Film: Silverlake Life: The View From Here – Winner of over 10 International Awards, including the Grand Jury Prize at the Sundance Film Festival. An extraordinary video diary of living with AIDS. The film documents, with guts and with humor, the love and dedication of longtime companions Tom Joslin and Mark Massi as they both live with the fatal disease.
AIDS Memorial Quilt Display: Wednesday, November 30 to Thursday, December 1, 2005
11:30 a.m. to 2:30 p.m. and
4:30 p.m. to 7:30 p.m.
All events will be held in the Holland Union Building, Social Hall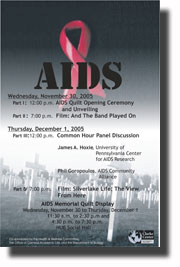 Issue in Context
According to the Centers for Disease Control, in 2001 alone, HIV/AIDS related illness caused the deaths of nearly three million people worldwide, including almost 580,000 children under the age of fifteen. Since 1997, roughly 13.9 million people worldwide died from HIV/AIDS. In 2003 alone, over three million men, women, and children from around the world died of AIDS, with central and southern regions of Africa reporting 15-35% of the population infected. Rates of infection and mortality show uneven pattern. While they are spreading at an accelerating rate in certain parts of the world, they are holding steady or gradually declining in others. A sustained educational campaign about infection and the use of life-sustaining drug medications are the two main factors behind this decline. It is imperative, therefore, to expand the campaign's reach to stem the spread of this killer disease.
About the Speakers
Dr. James Hoxie is the director of the Penn Center for AIDS Research and a professor of medicine at the University of Pennsylvania in the department of hematology and oncology. His primary research interest is focused on identifying viral and cellular determinants that are relevant to the ability of HIV and SIV to infect cells and to evade host immune responses with the hope that this information will be useful in designing vaccines. Dr. Hoxie earned an M.D. from the University of Pennsylvania in 1976 and a B.A. in biology from Wesleyan University in 1972. He specializes in the medical aspects of leukemia therapy and bone marrow transplantation, and is the director of the Penn Center for AIDS Research.
Phillip K. Goropoulos is a 1997 graduate of Dickinson College. He is the President/CEO of The AIDS Community Alliance of south central Pennsylvania. Appointed as the Interim Executive Director of the agency in the fall of 1999, Mr. Goropoulos has guided the agency to firm financial and programmatic ground during a tiem of tremendous change in the HIV/AIDS epidemic and funding for HIV/ AIDS services and prevention. For his work to advance programming at AIDS Community Alliance, Mr. Goropoulos received the
Jeffrey Zonis Leadership Award from Family Health Council of Central Pennsylvania in November 2004 and was showcased by the Patriot-News as one of the Harrisburg
region's Twenty In Their Twenties in February of 2005. In addition to his B.A. in English and American Studies from Dickinson College, Mr. Goropoulos holds a masters degree
in non-profit management from Regis University.
Related Links
• HIV Insite: Gateway to HIV and AIDS Knowledge
• Red Cross HIV and AIDS
• AIDS Action
• The AIDS Memorial Quilt
• AIDS Community Alliance
• Blood Lines (information on the documentary and other useful links)