National Endowment for Democracy
Russia after Crimea
Wednesday, February 4, 2015
Stern Center, Great Room, 7 p.m.
Gozman, president of the Union of Right Forces, will discuss what is happening in contemporary Russia, how the deepest crisis in Russia's post-Soviet history came about, where this crisis is going, why Russia is so negative towards the United States, why do Russians support the annexation of Crimea, and what can be done to make Russia free and democratic and stop the war in the Ukraine.
This program is sponsored by the Clarke Forum for Contemporary Issues and co-sponsored by the Churchill Fund. It is also part of the Clarke Forum's Leadership in an Age of Uncertainty Series.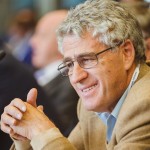 Biography (provided by the speaker)
Dr. Leonid Gozman is president of the Union of Right Forces and former co-chairman of the Right Cause Party (2008–2011). From 2008 to 2013, he served as director of humanitarian projects at RUSNANO, a state-owned enterprise that commercializes innovations in nanotechnology, and from 1999 to 2008, he was executive board member and representative for governmental and NGO relations at Unified Energy System of Russia (RAO UES). An active participant in Russia's democratic movement who has served as political advisor to Anatoly Chubais and Yegor Gaidar, he is also the author of eight books and is a lecturer at Moscow State University. He was previously a fellow at the Woodrow Wilson Center, and professor of psychology and Russian area studies at Dickinson College in Carlisle, Pennsylvania. He is currently a visiting fellow at the National Endowment for Democracy in Washington, DC.
Video of the Lecture