Storyteller
Becoming the Subject of Your Own Story
This event is only open to Dickinson community members.




RSVP required to

clarkeforum@dickinson.edu by Thursday, February 18.

Monday, February 22, 2016
Stern Center, Great Room, 5 p.m.
This spoken word performance uncovers the various ways women (and men) cheat the world of their fabulous human potential by focusing too often on appearance, sweetness and popularity. The show does not preach or instruct. Rather, audience members discover their own empowerment through Dark's funny and personal tales.
Yoga for Every Body
Tuesday, February 23, 2016
HUB Dance Studio, Noon – 1 p.m.
These events are sponsored by the Clarke Forum for Contemporary Issues and co-sponsored by the Women's and Gender Resource Center, Student Senate and the Psychology Club.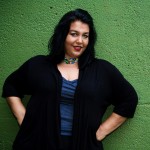 Biography (provided by the speaker)
Kimberly Dark is a writer, storyteller and speaker who helps audiences discover that we are creating the world, even as it creates us. She's the author of five award-winning performance scripts and a number of educational programs regarding the body in culture — how appearances and identities influence our experiences in the world related to gender, race, body type/size, beauty, ability, etc. She uses humor and intimacy to prompt audiences to discover their influences and reclaim their power as social creators.
Dark blogs regularly for Huffington Post and Ms Magazine, in addition to contributing essays, stories and articles to a wide range of books and publications. She travels the English-speaking world doing performances and keynote presentations at colleges and universities, conferences, theatres and festivals. She has been invited to present her unique blend of performance and presentation, writing and workshops at hundreds of venues in the U.S., Canada, Australia, UK, Ireland and other nations during the past twenty years. She lectures in a graduate program in Sociological Practice at California State University, San Marcos.