Duke University
Joseph Priestley Award Celebration Lecture
Harnessing Academic Work to Make a Difference: Food Policy as an Example
Tuesday, March 28, 2017
Anita Tuvin Schlechter Auditorium, 7 p.m.
With the goal of more tightly connecting work in academic settings with the real world of social and policy change, a model of strategic scholarship will be described. Examples will be drawn from work on food policy (e.g., menu labeling, food marketing, soda taxes).
The Joseph Priestley Award recipient is chosen by a different science department each year.  The Department of Psychology has selected this year's recipient, Kelly Brownell. The event is supported by the College's Priestley Fund and is sponsored by the Clarke Forum for Contemporary Issues and co-sponsored by the departments of biology, chemistry, earth sciences, environmental studies, math & computer science, psychology, and physics & astronomy.
Biography (provided by the speaker)
Kelly Brownell is dean of the Sanford School of Public Policy at Duke University, where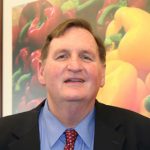 he is also Robert L. Flowers Professor of Public Policy and professor of psychology and neuroscience.
In 2006 Time magazine listed Kelly Brownell among "The World's 100 Most Influential People" in its special Time 100 issue featuring those ".. whose power, talent or moral example is transforming the world." Brownell was elected to membership in the National Academy of Medicine (formerly the Institute of Medicine) in 2006 and has received numerous awards and honors for his work, including the Lifetime Achievement Award from the American Psychological Association and the Graduate Mentoring Award from Yale University.
Prior to joining the faculty at Duke, Brownell was at Yale University where he was the James Rowland Angell Professor of Psychology, professor of epidemiology and public health, and director of the Rudd Center for Food Policy and Obesity. While at Yale he served as chair of the Department of Psychology and as Master of Silliman College.
Dr. Brownell has published 15 books and more than 350 scientific articles and chapters. He has served as president of several national organizations and has advised the White House, members of congress, governors, world health and nutrition organizations, and media leaders on issues of nutrition, obesity, and public policy.  He was cited as a "moral entrepreneur" with special influence on public discourse in a history of the obesity field and was cited by Time magazine as a leading "warrior" in the area of nutrition and public policy.
Joseph Priestley Lecture
The Priestley Award is presented by Dickinson College in memory of Joseph Priestley, discoverer of oxygen, to a distinguished scientist whose work has contributed to the welfare of humanity. The Priestley Award, first presented in 1952, recognizes outstanding achievement and contribution to our understanding of science and the world.
Video of the Lecture