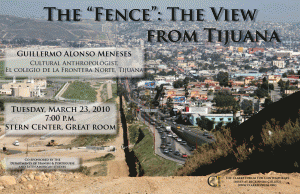 El Colegio de al Frontera Norte, Tijuana
The "Fence": The View from Tijuana
Tuesday, March 23, 2010
Stern Center, Great Room, 7:00 p.m.
The United States is building one, two, three or more walls and "other obstacles" in the southwest border. Customs and Border Protection claim, "New dangers face the borders of our nation." Terrorism, drug trafficking and illegal immigrants are waiting to cross the border.
Co-sponsored by the Departments of Latin American Studies and Spanish and Portuguese.
Topical Background
Founded in 1982, El Colegio de la Frontera Norte, or "The College of the Northern Border," serves as both an institute of higher education and a prominent think tank. With headquarters in Tijuana, Mexico, the institution has branches throughout Mexico in Monterrey, Ciudad Juarez, Mexicali, Nogales, Piedras Negras, Nuevo Laredo, and Matamoros. Its mission is threefold:
1.Study and divulge the significance of regional issues occurring in the U.S.-Mexico border
2.Train students and staff to excel as professionals and researchers
3.Maintain close links with civil society and government to contribute to the development of the region and the country
In the classroom, students at El Colegio de la Frontera Norte learn extensively about issues surrounding the U.S.-Mexico border in six different academic departments. Outside the classroom, the institution does extensive outreach with the community to inform and empower the public. These efforts include publishing two biannual scientific journals, "Frontera Norte" and "Migraciones Internacionales," and running an information center focused on U.S.- Mexico border issues that is open to the general public. For more information on El Colegio de la Frontera Norte, visit www.colef.mx.
About the Speaker
Guillermo Alonso Meneses was born and raised in Tenerife, the Canary Islands, Spain. He began his studies at the Universidad de la Laguna in Tenerife in 1983, and received his bachelor's degree at the Universidad de Barcelona in 1988. He earned his doctorate degree at the Universidad de Barcelona from the Department of Social Anthropology, History of the Americas and Africa in 1995. He was a researcher at the Center for African Studies in Barcelona and also at the Center for Population Studies at the Universidad Autónoma del Estado de Hidalgo at Pachuca, Mexico.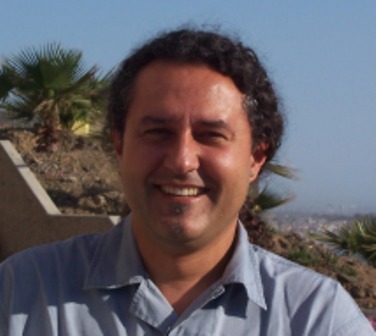 Since 1999 he has been a researcher at El Colegio de la Frontera Norte, (www.colef.mx) Tijuana, Baja California, México, in Department for Populations Studies (1999-2005); Coordinador del Doctorado (Ph.D. studies Coordinator) at El COLEF (2002-2006); member of Editorial Board at "Migraciones Internacionales" review (2001-2007); and Director of Cultural Studies Department (2006-2009).
Currently, he has three lines of research at Cultural Studies Department:
• Risk, vulnerability and Human Right of the undocumented migrant at the U.S. – Mexico border.
• The peculiar factors involved in the migration to the U.S. of Indians from central Mexico (nahuas and otomies) and Mexican women.
• Migration, borders and cultural change.
Video of the Program