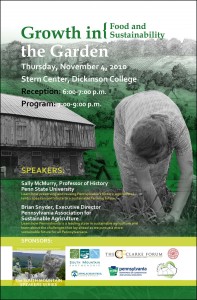 Sally McMurry, professor of history, Penn State University
Brian Snyder, executive director, Pennsylvania Association for Sustainable Agriculture
Thursday, November 4, 2010
Stern Center, Great Room
6:00 – Reception
7:00 – Program
One of the South Mountain Environmental History Lectures, this event features a keynote address by Professor McMurry titled "Pennsylvania's Historic Farming Legacy and Sustainable Agriculture's Future" and an additional presentation by Mr. Snyder who will discuss opportunities to capitalize on the fact that sustainably raised Pennsylvania products are centrally located to some of the largest population centers in the nation.
Biographies (provided by the speakers)
Sally McMurry is professor of history at Penn State University – University Park. She is a cultural and social historian of nineteenth-century America, with a special interest in the history of agriculture, landscape, architecture, and gender as they develop in rural contexts. She has published books and articles on these topics. Currently she is principal investigator for a multi-year collaborative project, 'The Pennsylvania Agricultural History Project,' which will create a resource that can be used by preservation professionals to evaluate Pennsylvania's historic farm buildings and landscapes.
Brian Snyder is executive director of the Pennsylvania Association for Sustainable Agriculture (PASA), a position he has held since 2001. PASA is considered one of the largest sustainable ag organizations in the United States, annually hosting a Farming for the Future conference in State College (PA) that has drawn over 2,000 participants from as many as 40 states and 8 different countries. During his tenure, the PASA membership has grown from about 1,000 to nearly 6,000 individuals.
Brian holds two masters degrees, from Harvard University (Theological Studies) and the Isenberg School of Management (Business Administration) at the University of Massachusetts at Amherst. Before moving to Pennsylvania, Mr. Snyder was Executive Director of The William J. Gould Associates, which operates Gould Farm, a 600-acre sustainable farm and mental health treatment facility in the Berkshire Hills of Western Massachusetts.
In addition to writing and speaking in a number of venues on the subject of sustainable agriculture, Mr. Snyder also serves on several other related boards, including the FoodRoutes Network, which operates the popular Buy Fresh Buy Local program nationally, and the Pennsylvania State Council of Farm Organizations. He also serves in an advisory capacity for the Pennsylvania Dairy Task Force, the Northeast Sustainable Ag Working Group and the School of Hospitality at the Penn College of Technology in Williamsport, PA.