Virtual program on YouTube live, 12 p.m.
Pandemic Preparedness and Environmental Awareness
Frédéric Keck
Laboratory of Social Anthropology
(CNRS-Collège de France-EHESS)
The current Covid-19 pandemic has connected public health concerns in the West (the fabric of vaccines, the use of masks and other distancing measures) with questions on what happens with bats in China, since Covid-19 is a zoonosis emerging from animal reservoirs. While preparedness asks us to prepare for future pandemics, and question how much we are prepared in the organization of public health, it also includes attentiveness to environmental changes as early warning signals of pandemics. Focusing on the perception of sentinels for influenza pandemics in Hong Kong, this talk will question how we can read viral mutations as signs of environmental changes.
The event is sponsored by the Clarke Forum for Contemporary Issues and co-sponsored by the departments of East Asian studies and anthropology.

Topic overview written by Amanda Sowah '22
Biography (provided by the speaker)
Frédéric Keck is director of research at the Laboratory of Social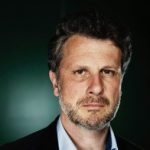 Anthropology (CNRS-Collège de France-EHESS). After studying philosophy at the Ecole Normale Supérieure in Paris and anthropology at the University of California at Berkeley, he has been researching the history of social anthropology and contemporary biopolitical questions raised by avian influenza. He has been the director of the research department of the musée du quai Branly between 2014 and 2018. He published Claude Lévi-Strauss, une introduction (Pocket-La découverte, 2005), Lucien Lévy-Bruhl, entre philosophie et anthropologie (CNRS Editions, 2008) Un monde grippé ( Flammarion, 2010) and Avian Reservoirs : Virus Hunters and Birdwatchers in Chinese Sentinel Posts, (Duke University Press, 2020). He has co-edited (with N..Vialles ) Des hommes malades des animaux, L' Herne, 2012 and (with A. Lakoff) Sentinel devices,, Limn, 2013. He received the bronze medal of CNRS in 2012 and is a fellow of the Canadian Institute for Advanced Research.
Video of the Presentation