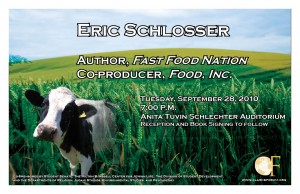 Bestselling author of Fast Food Nation and co-producer of Food, Inc.
Thoughts on Food
Tuesday, September 28, 2010 *
Anita Tuvin Schlechter Auditorium, 7:00 p.m.
Schlosser will discuss what effects food production, distribution, and consumption have on society's health, environment and culture.
* This event is part of The Clarke Forum's series on Leadership in an Age of Uncertainty.
A reception will immediately follow the presentation in the lobby of ATS. Book signing by the author and the opportunity to purchase "Fast Food Nation" and "Chew on This" will be offered at the reception.
This event is co-sponsored by Student Senate, The Milton B. Asbell Center for Jewish Life, The Division of Student Development, and the Departments of Religion, Judaic Studies, Environmental Studies and Psychology.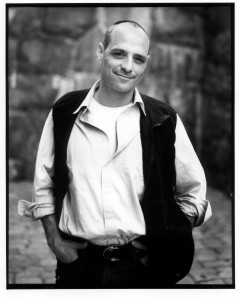 Biography (provided by the speaker)
As an investigative journalist, Eric Schlosser continues to explore subjects ignored by the mainstream media and gives a voice to people at the margins of society. Over the years he's followed the harvest with migrant farm workers in California, spent time with meatpacking workers in Texas and Colorado, told the stories of marijuana growers and pornographers and the victims of violent crime, gone on duty with the New York Police Department Bomb Squad, and visited prisons throughout the United States. His aim is to shed light on worlds that are too often hidden. And his work defies easy categorization, earning praise not only from liberal publications like the Nation, but also from Fortune, the Financial Times, and the National Review.
Schlosser's first book, Fast Food Nation (2001), helped start a revolution in how Americans think about what they eat. It has been translated into more than twenty languages and remained on the New York Times bestseller list for two years. His second book, Reefer Madness (2003), looked at America's thriving underground economy. It was also a New York Times bestseller. Chew on This (2006), a New York Times bestselling children's book, co-written with Charles Wilson, introduced young readers to the health effects of fast food and the workings of industrial agriculture. Schlosser has for almost a decade been researching a book on the American prison system. His next book, Command and Control, is about nuclear weapons.
Before trying to write non-fiction, Schlosser was a playwright and worked for an independent film company. In recent years he's returned to those fields. Schlosser served as an executive producer and co-wrote the feature film Fast Food Nation (2006), directed by Richard Linklater. Their screenplay was named one of the best of that year by New York Times critics A.O. Scott and Mahnola Dargis. Schlosser was an executive producer of There Will Be Blood (2008), directed by Paul Thomas Anderson. And he was a co-producer of the award-winning documentary, Food, Inc. , directed by Robert Kenner. Two of Schlosser's plays have been produced in London: Americans (2003) at the Arcola Theatre and We the People (2007) at Shakespeare's Globe Theatre.