Researcher, University of Oxford Border Criminologies Project
Prisons Built to Expel
Monday, February 15, 2016
Stern Center, Great Room, 7 p.m.
Kaufman will examine the rise and consequences of the "all-foreign" prison in the U.S. Is it legal to segregate American prisons by citizenship status? How are non-citizens treated inside prison systems in the US and Europe? What can we learn—about punishment, ethics, and immigration policy—by studying prisons that are built to expel?
This program is sponsored by the Clarke Forum for Contemporary Issues and co-sponsored by the Churchill Fund. It is also part of the Clarke Forum's Leadership in an Age of Uncertainty Series.
Biog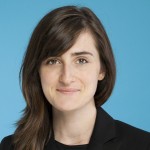 raphy (provided by the speaker)
Emma Kaufman received her J.D. from Yale and her Ph.D. from Oxford, where she was a Marshall and Clarendon Scholar. Her new book, Punish and Expel, draws on a year of research inside men's prisons to examine the treatment of incarcerated non-citizens. Emma has published articles on American immigration imprisonment, the relationship between gender and punishment, and British prison policy.