Renowned Performance Artist
Residency: Sunday, April 2 – Saturday, April 8, 2017
During her residency, renowned performance artist Eiko Otake will bring her new solo project, A Body in Places, to several unexpected sites; engage students and faculty from different disciplines; and "occupy" campus for a magical week of immersion in new ways of seeing. Look for Otake around campus during the week.
Performances
Monday, April 3, 2017
Waidner-Spahr Library, 7 p.m. – 8 p.m.
A Body in Places
Tuesday, April 4, 2017
Holland Union Building, 1 p.m. – 1:45 p.m.
A Body in Places
Wednesday, April 5, 2017
Bosler Memorial Library, 12 p.m. – 12:45 p.m.
A Body in Places
Lecture
Thursday, April 6, 2017
Anita Tuvin Schlechter Auditorium, 7 p.m.
A Body in Fukushima

Using her body as a conduit, Eiko Otake tries to make the distance between here/now to the Fukushima meltdowns malleable.
This residency is sponsored by the Clarke Forum for Contemporary Issues, supported by the Cecil Andrew and Adeline Ewing Fund, and co-sponsored by the Departments of Theatre & Dance, Women's, Gender and Sexuality Studies  and East Asian Studies. It is also part of the Clarke Forum's semester theme, Media, Technology and Civic Engagement.
Biography (provided by the speaker)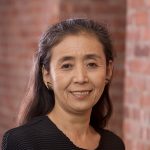 Born and raised in Japan, and based in New York since 1976, Eiko Otake is a movement-based multidisciplinary performing artist. For over forty years, she has worked as Eiko & Koma performing worldwide.  For the 50 plus works they have co-created, both Eiko and Koma handcrafted sets, costumes, sound, and media.
Eiko is currently presenting a solo project, A Body in Places, which opened with A Body in a Station, a twelve hour performance at Philadelphia's Amtrak station in October 2014. In the spring of 2016, Eiko was the subject of Danspace Project's Platform, a month-long curated program. In addition to performing a daily solo, Eiko presented varied weekly programs including a book club, a film series, an exhibition, installations, workshops, and performing events with other invited artists. Bessie Committee awarded a special citation to Eiko for her Platform for "making herself 'radically available' in public and private spaces."
A recipient of a MacArthur Fellowship, the Samuel H. Scripps American Dance Festival Award, the Dance Magazine Award, and an inaugural USA Fellowship, the Duke Performing Artist Award, and Anonymous was a Woman Award, Eiko regularly teaches at Wesleyan University, NYU, Colorado College.