UCLA and Buck Institute
Reducing the Global Burden of Dementia: The First Alzheimer's Survivors
Wednesday, April 25, 2018
Anita Tuvin Schlechter Auditorium, 7 p.m.
Bredesen describes his treatment for Alzheimer's and pre-Alzheimer's, along with associated challenges and implications. A book sale and signing will follow the presentation.
The program is sponsored by the Clarke Forum for Contemporary Issues and co-sponsored by the Office of Senior Associate Provost; the Career Center; Pre-Health Society; Pre-Health Program; Division of Student Life;  the Wellness Center; Department of Biology; and the Program in Policy Studies. It was initiated by the Clarke Forum Student Project Managers.
Biography (provided by the speaker)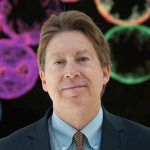 Dale E. Bredesen, M.D. received his undergraduate degree from Caltech and his medical degree from Duke.  He served as resident and chief resident in neurology at UCSF, then was postdoctoral fellow in the laboratory of Nobel laureate Prof. Stanley Prusiner.  He was a faculty member at UCLA from 1989-1994, then was recruited by the Burnham Institute to direct the Program on Aging.  In 1998 he became the founding president and CEO of the Buck Institute for Research on Aging, and Adjunct Professor at UCSF; then in 2013 he returned to UCLA as the director of the Easton Center for Alzheimer's Disease Research.
The Bredesen Laboratory studies basic mechanisms underlying the neurodegenerative process, and the translation of this knowledge into effective therapeutics for Alzheimer's disease and other neurodegenerative conditions, leading to the publication of over 220 research papers. He established the ADDN (Alzheimer's Drug Development Network) with Dr. Varghese John in 2008, leading to the identification of new classes of therapeutics for Alzheimer's disease.  His group has developed a new approach to the treatment of Alzheimer's disease, and this approach has led to the discovery of subtypes of Alzheimer's disease, followed by the first description of reversal of symptoms in patients with MCI and early Alzheimer's disease, with the ReCODE (reversal of cognitive decline) protocol, published in 2014 and 2016.  His book, The End of Alzheimer's, is a New York Times Bestseller.
Related Links
CBN: New Alzheimer's Treatment, Prevention Shows Impressive Results

First Paper 2014: Reversal of cognitive decline: A novel therapeutic program
2016 Paper: Reversal of cognitive decline in Alzheimer's disease
Subtypes: Metabolic profiling distinguishes three subtypes of Alzheimer's disease
Silicon Valley Health: https://www.youtube.com/watch?v=6D5aA_-3Ip8
Video of the Lecture