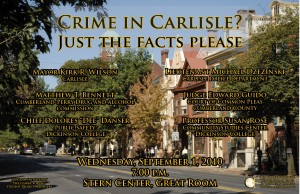 A Panel Discussion
Wednesday, September 1, 2010
Stern Center, Great Room – 7:00 p.m.
Panelists
Mayor Kirk R.Wilson, Carlisle
Judge Edward Guido, Cumberland County Court of Common Pleas
Chief Dolores "Dee" Danser, Public Safety, Dickinson College
Lieutenant Michael Dzezinski, Carlisle Police Department
Matthew T. Bennett, prevention specialist, Cumberland-Perry Drug and Alcohol Commission
Moderator: Prof. Susan Rose, Sociology, Dickinson College
A panel of experts will discuss the topic and answer questions. The event will be of special interest to students new to the Harrisburg/Carlisle area, which Forbes Magazine recently identified as the fifth-most desirable place to live in the nation.
Biographies (provided by the panelists)
Kirk R. Wilson is serving his 25th year as mayor of Carlisle. He was first elected in November of 1985 and has been re-elected to six more consecutive four-year terms. As mayor he has played an active role in this community's public safety, economic development, housing and downtown revitalization initiatives.
Under state law, the mayor is responsible for the operation of the Carlisle Police Department. He also approves or vetoes all ordinances and has the authority to break tie votes of the borough council.
He is past president of the Pennsylvania League of Cities and Municipalities and a member of its board of directors since 1991. He serves as vice chair of PennPRIME, a statewide local government insurance trust. The mayor has worked with the National League of Cities in development of a training program entitled, Crisis Leadership for Local Elected Officials. He also represented the National League of Cities on the planning of a training program for elected officials being prepared for the Federal Emergency Management Agency. He is the PLCM representative to the Local Government Advisory Committee for Intrastate Mutual Aid and the Pennsylvania Emergency Management Agency.
Active in his support of local organizations, Mayor Wilson has served as a member of the Advisory Board to the Carlisle Salvation Army and the board of the Cumberland County Chapter of the American Red Cross. The mayor was appointed by the Cumberland County Board of Commissioner to the Susquehanna Area Regional Aviation Authority which operates Harrisburg International Airport, the Capital City Airport and the Chambersburg Airport.
He holds journalism and communications degree from Point Park University in Pittsburgh and a degree in business management from Eastern University in suburban Philadelphia.
He has spent more than 30 years in numerous state government posts, including with the Governor's Office, the House of Representatives, the Senate, the departments of Transportation, Aging, Education, Agriculture, Revenue, General Services and the Historical and Museum Commission.
Judge Guido is a 1972 graduate of Dickinson College and a 1975 graduate of The Dickinson School of Law. He practiced law in Cumberland County for more than 20 years before he was elected to the bench. He maintained offices in both Carlisle and Camp Hill. As a general practitioner with an emphasis on litigation, he handled a wide variety of both civil and criminal cases. In addition to his private practice, Judge Guido served eight years as an assistant public defender followed by seven years as an assistant district attorney. For the last ten years he has taught at Dickinson College in the Political Science and Law and Policy departments as an adjunct professor. He has also been one of the coaches for the Dickinson College Mock Trial Team.
Dolores "Dee" Danser joined Dickinson College as the Chief of Public Safety in November 2005. Dee has more than 30 years of experience in municipal, county, and college and university law enforcement. In addition to law enforcement command experience, she has also worked in several specialized areas of law enforcement including Narcotics, Sexual Assault, and Child Abuse Investigations. Dee attended law enforcement certification training academies and advanced law enforcement training in New Jersey, Florida and Pennsylvania. She attended Pennsylvania State University at Mont Alto and the College of New Jersey (formerly Trenton State College) and received her B.S. degree in Criminal Justice. In April 2004 Dee received the "Breaking the Glass Ceiling Award" from the National Center for Women and Policing.
Lieutenant Michael Dzezinski has been employed with the Carlisle Police Department since September, 1994 and was promoted to Lieutenant in 2007 after having previously held the positions of Corporal and Patrol Sergeant. His current responsibilities include supervision of the department's dispatching staff, parking enforcement department, and Community Service Officers (CSO's).
In addition, Lt. Dzezinski is the Commander of the Carlisle/Cumberland County Special Response Team (SRT), as well at the department's resident Taser and Physical Fitness Instructor.
A native of Natrona Heights, Pennsylvania, Lieutenant Dzezinski enlisted in the United States Army in 1985 as a Military Police Officer and after completing tours of duty in Germany, Operation Desert Storm, and Carlisle Barracks; he was hired locally as a Narcotics Detective with the Tri-County regional Drug Task Force in 1992, a job he held until being hired by the Carlisle Police Department in 1994.
Lt. Dzezinski graduated from Highlands High School and in addition to various military and law enforcement certifications, he is a graduate of the Penn State University Police Executive Development program (POLEX).
Matthew T. Bennett is a Prevention Specialist with the Cumberland-Perry Drug and Alcohol Commission. As a Prevention Specialist, he conducts trainings across Pennsylvania that address a wide variety of drug, alcohol, and tobacco issues. Prior to joining the Commission, Mr. Bennett was an Investigator for the PA Department of Corrections, conducted electronic monitoring and tracking of criminal offenders for various law enforcement agencies, and performed licensure and credential review of medical personnel for Highmark Corporation. He received his undergraduate degrees in Sociology and Communications from Susquehanna University and his Masters in Communications from Shippensburg University.
Susan D. Rose, Charles A. Dana Professor of Sociology and Director, Community Studies Center. PhD., Cornell University (1984). Professor Rose specializes in the sociology of religion, immigration, family, violence, and race, class, gender studies. She uses a comparative (cross-cultural and historical) approach to the study of family, religion, education, and violence. She has conducted fieldwork in the United States, Guatemala, the Philippines, and South Korea on evangelical movements, education, and gender that has resulted in a number of articles and books. These include: Exporting the American Gospel: Global Christian Fundamentalism (Routledge, 1998) and Keeping Them Out of the Hands of Satan: Christian Schooling in America (Routledge, 1986). Her recent work explores sexuality and sexuality education in Denmark and the United States, the impact of the Religious Right on social policy in the United States, and immigration studies.
Recipient of the Michael Harrington Distinguished Teaching Award (2003) from the National Poverty Forum, Dickinson College's Distinguished Teaching Award (2001), and the National Oral History Distinguished Teaching Award (1996-1998), Rose enjoys teaching a variety of classes. She challenges her students to ask significant questions and to pursue them, using various theoretical and methodological approaches.
Video of the Program