Sunday, November 19, 2006
Concert: Works by Beethoven, Prokofiev, Ravel, and Saraste
Weiss Center, Rubendall Recital Hall, 4:00 p.m.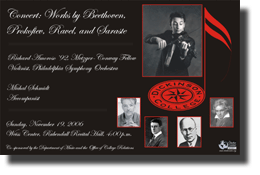 Program
Ludwig Van Beethoven, Sonata No. 8, Op.30
Sergei Prokofiev, Sonata in D major, Op. 94
Intermission
Maurice Ravel, Sonata for violin and cello
About the Performers
Richard Amoroso
Violinist Richard Amoroso joined The Philadelphia Orchestra in 1998. Born in 1970 to a musical family, he is well-known for his involvement in the Philadelphia musical community and for his extensive work with young people. A former pupil of past Philadelphia Orchestra concertmasters, Norman Carol and William de Pasquale, Mr. Amoroso continues in the long and rich tradition of these artists.Recent engagements include a recital at Carnegie Hall's Weill Recital Hall and a solo appearance with the Philly Pops Orchestra. In addition, Mr. Amoroso speaks from the stage to both subscription and young audiences of the Philadelphia Orchestra. He is also a frequent participant in the orchestra's chamber music series and Family Concerts.
Mr. Amoroso's relationship with The Philadelphia Orchestra began at the age of 14 when, as winner of the orchestra's student concerto competition, he performed as soloist with the orchestra on the stage of the famed Academy of Music. He continued his studies at the Settlement School of Music and later earned his bachelor's degree from Dickinson College, graduating Magna Cum Laude and Phi Beta Kappa.
His instrument is a Nicolai Gagliano from 1765. He resides in a suburb of Philadelphia with his wife Anne and children Sophia and Alex. He is an avid golfer and sports fan.
Michal Schmidt
As a contributing faculty member at Dickinson College, Israeli musician Michal Schmidt is the cello professor as well as the chamber music coordinator at the college. Ms. Schmidt is an active performer as recitalist, chamber musician and soloist. She is a member of the Network of New Music and the Hildegard Chamber Players and has performed with 1807 and Friends and Liberty Strings, as well as with various performing organizations in the Philadelphia area. She has appeared in concerts and conducted master classes in various cities in the US, Israel, South Korea, France, Costa Rica and Canada.