Binghamton University (SUNY)
Comrades in Arms: The Politics of War, 1939-1941
Monday, March 23, 2015
Stern Center, Great Room, 7 p.m.
This talk will explore how the two major veterans organizations, the American Legion and the Veterans of Foreign Wars, became part of the political battle over the Roosevelt Administration's involvement in World War II during the two-plus years between the onset of World War II and the entry of the United States into this conflict.
This program is sponsored by the Clarke Forum for Contemporary Issues and co-sponsored by the Departments of Political Science, English, Film Studies and History. This program is also part of the Clarke Forum's semester theme, War at Home.
Biography (provided by the speaker)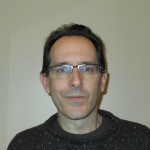 Stephen R. Ortiz is an associate professor of history at Binghamton University (SUNY). He is the author of Beyond the Bonus March and GI Bill: How Veteran Politics Shaped the New Deal Era (NYU Press, 2010) and editor of Veterans' Policies, Veterans' Politics: New Perspectives on Veterans in the Modern United States (University Press of Florida, 2012). Ortiz is currently working on a new book project titled Comrades in Arms: Veterans Organizations and the Politics of National Security, 1919-1961. Read more