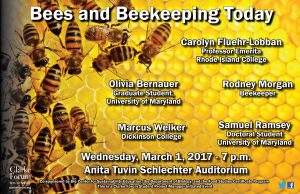 Wednesday, March 1, 2017
Anita Tuvin Schlechter Auditorium, 7 p.m.
Panelists:
Olivia Bernauer, graduate student, University of Maryland
Carolyn Fluehr-Lobban, beekeeper and professor, Rhode Island College
Rodney Morgan, beekeeper
Samuel Ramsey, doctoral student, University of Maryland
Marcus Welker, (moderator), projects coordinator, Center for Sustainability Education, Dickinson College
This panel explores the significance of bees and beekeeping from a variety of perspectives, including the recent entomological research, the growth of beekeeping, and the work we are doing here at Dickinson.
This event is sponsored by the Clarke Forum for Contemporary Issues and co-sponsored by the Center for Sustainability Education, the Department of Biology and the Food Studies Certificate Program.
Biographies (provided by the panelists)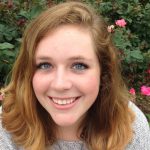 Olivia Bernauer is currently a second-year Masters student at the University of Maryland, College Park working in the vanEngelsdorp bee lab. Her ongoing research combines citizen science with a specimen collection to determine the most valuable pollinator plants for the native pollinators in the state of Maryland. Previously, at the University of Wisconsin-Madison, she worked to understand the response of bumble bee colonies to fungicide both in the field and in a controlled cage experiment.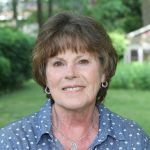 Carolyn Fluehr-Lobban is a professor emerita of anthropology at Rhode Island College and is a faculty member of the doctoral program in education. She is also adjunct professor of African studies at the Naval War College, Newport. At Rhode Island College she taught courses on race, gender, African, Middle East and Islamic studies and received both the awards for Distinguished Teaching and Distinguished Scholarship.
Besides her academic history, she has been a beekeeper since 2003 as well as a beekeeping educator giving annual lectures for the Urban Agriculture program at Brown University. She was the main inspiration behind the installation of beehives for public education on the urban campus of Rhode Island College in Providence in 2010 where the RI Beekeepers' Association Bee Schools are held each year in February and March. She also initiated a Bee Education Center on campus which offers educational tours of the beehives for school children from around the state on the environmental importance of bees.
Her academic experiences include living and conducting research in the Sudan, Egypt and Tunisia. Her research subjects cover: Islamic law and Islamic society, women's status in Muslim societies, race, ethics and anthropological research, human rights and cultural relativism, and comparative studies in law and society. She is the author of several books including Islamic Law and Society in the Sudan, Ethics and the Profession of Anthropology: Dialogue for Ethically Conscious Practice, and most recently a textbook Ethics and Anthropology, Ideas and Practice.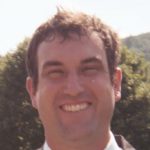 Rodney Morgan has been a beekeeper for the last 10 years.  He currently manages 35-50 hives throughout the year, with several of the hives located at Dickinson College Farm.  Rodney works as an electronics technician, but also owns and runs Whistleberry Farm in Boiling Springs, along with his wife, Lynne.  They grow a variety of produce in addition to beekeeping and are regular vendors at the Farmers on the Square Market in Carlisle and the Dillsburg Farmers Market.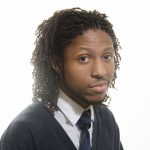 Samuel Ramsey's enduring interest in entomology started 19 years ago and shows no signs of waning. A Ph.D. student studying in Dr. Dennis vanEngelsdorp's lab at the University of Maryland, College Park; Ramsey tries to maintain a focus on how insect research can benefit the public through development of IPM strategies and STEM outreach initiatives. Ramsey studied entomology at Cornell University as an undergraduate focusing on predatory/parasitic insect behavior. His current work focuses on the effects of honey bee parasites on individual and colony level survivorship specifically targeting Varroa destructor.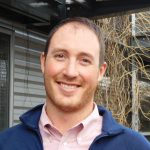 Marcus Welker came to Dickinson in fall 2015 after completing his master of science in ecology and evolutionary biology degree at Dartmouth College in Hanover, NH. At Dartmouth, Marcus studied Atlantic salmon migration and traveled to Alaska, Greenland, and Svalbard to learn more about the effects of climate change on the Arctic. While not studying, Marcus learned to keep honeybees, ride and maintain bicycles, and brew beer. Marcus enjoys sharing his passions for the outdoors, the environment, and sustainability with the Dickinson community and is excited to mentor students, staff, faculty, and alumni in the art and science of beekeeping.
Video of the Panel Discussion