Award-Winning Writer
An Evening with Yoko Tawada
Wednesday, March 28, 2018
Anita Tuvin Schlechter Auditorium, 7 p.m.
Known internationally for her novels, poems and essays in German and Japanese, author Yoko Tawada creates worlds in which foreigners, outsiders and animals, always aware of their strangeness, navigate and read their surroundings with wonder and minuteness. Tawada will collaborate with Bettina Brandt (Pennsylvania State University) in a multilingual performance which includes German and Japanese as well as English translations. A book sale and signing will follow the presentation.
This program is sponsored by the Clarke Forum for Contemporary Issues and co-sponsored by the Departments of German; East Asian Studies; English; the Max Kade Foundation; and the Flaherty Lecture Fund. It is also part of the Clarke Forum's semester theme, Citizen/Refugee.
Biography (forthcoming)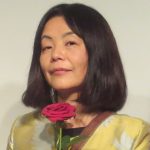 Yoko Tawada was born in Tokyo in 1960, educated at Waseda University and has lived in Germany since 1982, where she received her Ph.D. in German literature. She received the prestigious Akutagawa Prize for The Bridegroom Was a Dog. She writes in both German and Japanese, and in 1996, she won the Adalbert-von-Chamisso Prize, a German award recognizing foreign writers for their contributions to German culture. She also received the Goethe-Medal, an official decoration of the Federal Republic of Germany and the prestigious Kleist Prize (2016).
Related Links
https://www.nytimes.com/interactive/2016/10/30/magazine/yoko-tawada.html
https://www.newyorker.com/books/page-turner/yoko-tawadas-magnificent-strangeness
Video of the Presentation