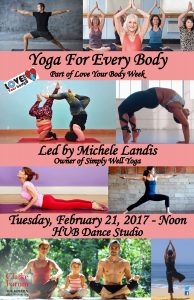 Tuesday, February 21, 2017
HUB, Dance Studio, Noon – 1 p.m.
Our spectacular, local yoga instructor Michele Landis, owner of Simply Well Yoga, will conduct a yoga class for everyone–all levels, all bodies, all ages.  Mats are provided or bring your own!
The event is sponsored by the Clarke Forum for Contemporary Issues and is part of Love Your Body Week.
Biography of Michele Landis
Michele Landis is the owner of Yoga at Simply Well. Michele teaches yoga and works as a one-on-one holistic health coach in Carlisle, PA. She graduated with honors from the Institute for Integrative Nutrition in New York, NY. The Institute for Integrative Nutrition is the only nutrition school integrating all of the different dietary theories, combining the knowledge of traditional philosophies with mode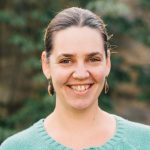 rn concepts such as the USDA food guidelines, the glycemic index, the Zone and raw foods. Michele's passion is helping her clients cook more and buy and eat local, seasonal foods. She earned her teacher certification in Kripalu Yoga from the Karma Yoga Lifestyle Program of the renowned Kripalu Institute in the Berkshire Mountains of Massachusetts. At the Kripalu Institute, where she studied and served on staff for almost two years, Michele learned the value of incorporating work as a spiritual practice through daily workshops, yogic breathing, nutrition, and connection to nature and community. Michele's own connection to nature is reflected in her passion for backpacking. She has hiked the entire Appalachian Trail, from Georgia to Maine, and has taught day-hiking classes at Cornell University in Ithaca, NY, where she first began practicing yoga. Michele has also hiked the Colorado Trail and New England's Long Trail. She holds an associate degree from the Harrisburg Area Community College.