Anita Tuvin Schlechter Auditorium (ATS), 7 p.m.
No Ruined Stone: A Reading & Conversation with Shara McCallum
Shara McCallum, award-winning poet
McCallum will read from her new book of poems, No Ruined Stone. The reading will be followed by a conversation with Professor Adrienne Su about the relationship between McCallum's poetry and history.
The  program is sponsored by the Clarke Forum for Contemporary Issues and co-sponsored by the Department of English, the  Latin American, Latinx & Caribbean Studies Program, the Creative Writing Program, and the Women's & Gender Resource Center.
Topic overview written by Rebecca Fox '22
Biographies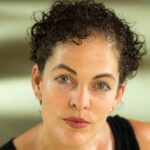 From Jamaica, and born to a Jamaican father and Venezuelan mother, Shara McCallum is the author of six books published in the US & UK, including No Ruined Stone. McCallum's poems and essays have appeared in journals, anthologies, and textbooks throughout the US, Caribbean, Latin America, Europe, and Israel. La historia es un cuarto/History is a Room, an anthology of poems selected from across her six books and translated into Spanish by Adalber Salas Hernández, will be published in 2021 by Mantis Editores in Mexico. In addition to Spanish, her poems have been translated into Italian, French, Romanian, Turkish, and Dutch and have been set to music by composers Marta Gentilucci and Gity Razaz. "Moving Still," a composition by Gentilucci, premiering in September 2021 the Biennale in Venice, includes McCallum's original text and her performance of the same. Awards for McCallum's work include the Silver Musgrave Medal, for outstanding merit in the field of literature, from the Jamaican government; the OCM Bocas Prize for Caribbean Literature, for her previous book Madwoman; a Witter Bynner Fellowship from the US Library of Congress; a National Endowment for the Arts Fellowship in Poetry; the Oran Robert Perry Burke Award for Nonfiction; and the Agnes Lynch Starrett Prize for her first book The Water Between Us. McCallum delivers readings, lectures, and workshops at universities and literary festivals in the US and internationally and has taught creative writing and literature at various universities. She is presently on the faculty of the Pacific Low-Residency MFA and is an Edwin Erle Sparks Professor of English at Penn State University. McCallum was appointed the 2021-22 Penn State Laureate.
Adrienne Su is the author of five books of poems: Peach State (2021), Living Quarters (2015), Having None of It (2009), Sanctuary (2006), and Middle Kingdom (1997). Her work appears in many anthologies, including Vinegar & Char: Verse from the Southern Foodways Alliance, The Norton Introduction to Literature, Border Lines: Poems of Migration, and several volumes of Best American Poetry. Recipient of a National Endowment for the Arts fellowship, she is professor of creative writing and poet-in-residence at Dickinson College.
Video of the Presentation