February 23, 2006
COMMON HOUR
The Way We Were? 'Memories' of Traditional Marriage and Family Life
Weiss Center, Rubendall Recital Hall, 12:00 p.m.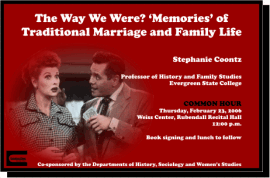 Issue in Context
During the 19th century, the age of sexual consent in some states was as low as nine or ten; alcoholism and drug abuse were more rampant than at present. During the "family-oriented" 1950s, teenage childbearing peaked. These facts belie the popular belief that traditional values of marriage and family thrived before recent times.
Through her research, Stephanie Coontz has revealed that the US is undergoing a "distressful and disorganizing social and economic transformation made all the more difficult by our romanticizing of a past that never existed as we choose to remember it. The so-called traditional family is no longer the norm and should not be made the ideal. Single-parent families cannot be considered abnormal anymore, and divorce is not an excuse for problematic children."
Coontz believes that the ills of society most often receive the blame for the breakdown of the "traditional" marriage. She argues that the strengths of more diverse forms of family life must be recognized in order to solve these ills.
About the Speaker
Stephanie Coontz is currently a professor of history and family studies at Evergreen State College and director of research and public education for the Council on Contemporary Families. She has published extensively on marriage and family life and is the author of several highly praised books such as: The Way We Never Were: American Families and the Nostalgia Trap and Marriage, a History: from Obedience to Intimacy, or How Love Conquered Marriage.
Her work has been featured in the New York Times, Wall Street Journal, Washington Post, Newsweek, Harper's, Vogue, LIFE as well as in such academic and professional journals as The Chronicle of Higher Education, and Journal of Marriage and Family . She has appeared on "The Oprah Winfrey Show," "Crossfire," CNN's "Talk Back Live," and "CBS This Morning."
A former Woodrow Wilson Fellow, Coontz has also taught at Kobe University in Japan and the University of Hawaii at Hilo . Her honors include the Council on Contemporary Families Visionary Leadership Award, the Dale Richmond Award from the American Academy of Pediatrics, and the Friend of the Family award from the Illinois Council on Family Relations.
Stephanie Coontz received her bachelor's degree from the University of California at Berkeley in 1966 and her master's at the University of Washington in 1970.
Related Links