Tuesday, February 28, 2006
Fatal Attraction: Fear of Death and Political Preferences
Stern Center, Great Room, 7:00 p.m.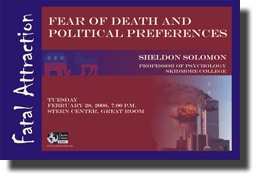 Issue in Context
In the 2004 presidential election contest, George W. Bush emerged victorious by a substantial margin (two percent) of the popular vote—perhaps omit this part. Republican officials declared that Americans voted for Bush because he shared their traditional and moralistic values, and were generally satisfied with the President's approach to the War on Terror. Others have argued that other factors contributed to Bush's victory, including sub-conscious fears born from the September 11, 2001 terrorist attacks and the belief that the lives of Americans would be endangered by the election of Senator John Kerry.
One may posit that the combination of the fear of death arising from the 9/11 terrorist attacks and the belief that Senator Kerry would not keep Americans safe influenced the electorate, thus demonstrating that the fear of death influences political preferences. Sheldon Solomon will present research to support this view.
To catalog evidence of the correlation between the fear of death and political preferences, Sheldon Solomon and his colleagues asked students to think about their own death and had them read campaign statements of three hypothetical political candidates, each with a different style of leadership: charismatic, task-oriented, and relationship-oriented. Messages referring to death caused a nearly 800 percent upswing in votes for the charismatic candidate, with no increase for the other two candidates.
Based on these results, Solomon's team concluded: "These findings fit particularly well with prior studies showing how mortality salience leads people toward individuals, groups, and actions that can help enhance their self-esteem. People want to identify with special, great things, and charismatic leaders typically offer the promise of just that."
About the Speaker
Sheldon Solomon is a professor of psychology and a Ross professor of interdisciplinary studies at Skidmore College . He obtained his B.A. in psychology at Franklin and Marshall College in 1975, and his Ph.D. in psychology from the University of Kansas in 1980. In his early work as a social psychologist, Solomon focused on the nature of self, consciousness, and social behavior. More recently, he has investigated the effects that awareness of death has on social behavior. Solomon is the co-author of In the Wake of 9/11: The Psychology of Terror and is the co-founder of The World Leaders Project. He has been a National Science Foundation Research Associate for Terror Management Research since 1992.
For more information on Sheldon Solomon's research, please visit the link below.
Related Links
Further Information about Sheldon Solomon's Research
Interview With Sheldon Solomon