Cornell University
Joseph Priestley Award Celebration Lecture
Synchronization in Nature
Monday, October 12, 2015
Anita Tuvin Schlechter Auditorium, 7 p.m.
Strogatz will discuss spectacular examples of synchronization in nature, from rhythmically flashing fireflies to crowds of pedestrians that inadvertently caused London's Millennium Bridge to wobble on its opening day.
The Joseph Priestley Award recipient is chosen by a different science department each year.  The Department of Physics and Astronomy has selected this year's recipient, Steven Strogatz. The event is supported by the College's Priestley Fund and is sponsored by the Clarke Forum for Contemporary Issues, Student Senate and the Churchill Fund  and co-sponsored by the departments of physics and astronomy, biology, chemistry, earth sciences, environmental studies, math & computer science, and psychology.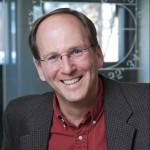 Biography (provided by the speaker)
Steven Strogatz is the Jacob Gould Schurman Professor of Applied Mathematics at Cornell University. He works in the areas of nonlinear dynamics and complex systems, often on topics inspired by the curiosities of everyday life. He studied at Princeton, Cambridge, and Harvard and taught at MIT before moving to Cornell in 1994. A renowned teacher and one of the world's most highly cited mathematicians, he has blogged about math for the New York Times and has been a frequent guest on RadioLab. His honors include a Presidential Young Investigator Award; MIT's highest teaching prize; a lifetime achievement award for the communication of mathematics to the general public; the Lewis Thomas Prize for Writing about Science; and membership in the American Academy of Arts and Sciences. He is the author of Nonlinear Dynamics and Chaos, Sync, and The Calculus of Friendship. His latest book, The Joy of x, has been translated into 15 languages.
Joseph Priestley Lecture
The Priestley Award is presented by Dickinson College in memory of Joseph Priestley, discoverer of oxygen, to a distinguished scientist whose work has contributed to the welfare of humanity. The Priestley Award, first presented in 1952, recognizes outstanding achievement and contribution to our understanding of science and the world.
Video of the Lecture