Iranian-American Poet
An Evening with Solmaz Sharif
Thursday, November 30, 2017
Anita Tuvin Schlechter Auditorium, 7 p.m.
Poet Sharif, a National Book Award finalist, will share work that explores, in eloquent detail, the conduct of contemporary war, the intimacy of loss, and the unbearable—but necessary—power of language. A book sale and signing will follow the presentation.
This event is sponsored by the Clarke Forum for Contemporary Issues and co-sponsored by the Department of English, the Creative Writing Program, the Department of American Studies and the Women's & Gender Resource Center.
Biography (provided by the speaker)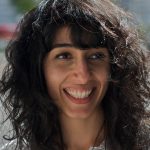 Born in Istanbul to Iranian parents, Solmaz Sharif's astonishing debut collection LOOK (Graywolf Press) was a finalist for the 2016 National Book Award and 2017 PEN Open Book Award. In LOOK, she recounts some of her family's experience with exile and immigration in the aftermath of warfare—including living under surveillance and in detention in the United States—while also pointing to the ways violence is conducted against our language. Throughout, she draws on the Department of Defense's Dictionary of Military and Associated Terms, the language used by the American military to define and code its objectives, policies, and actions. The Publishers Weekly Starred Review said, "Sharif defies power, silence, and categorization in this stunning suite. In form, content, and execution, LOOK is arguably the most noteworthy book of poetry yet about recent U-led wars in Afghanistan, Iraq, and the greater Middle East." And The New Yorker said: "By turns fierce and tender, the poems are a searing response to American intervention—'Hands that promised they wouldn't, but did.'"
In her essay, "A Poetry Of Proximity," Sharif writes, "It can take sixteen seconds for a Hellfire missile with its trigger pulled in Las Vegas to reach Mazar-e-Sharif. This is both much and little, both closer and more distant than we have ever been in warfare….A poem is similarly much and little, distant and close, but where one tries to increase the distance between bodies, the other tries to close. Where weapons try to limit the possibilities of speech and thereby the possibilities of desire, of recognition, poetry exists in speech. Where one has no song, the other is only."
Sharif's poems and essays have appeared in The New Republic, Poetry, The Kenyon Review, jubilat, Gulf Coast, Boston Review, Witness, Volta, and others. The former managing director of the Asian American Writers' Workshop, her work has been recognized with a "Discovery"/Boston Review Poetry Prize, scholarships the Bread Loaf Writers' Conference, a winter fellowship at the Fine Arts Work Center in Provincetown, an NEA fellowship, and a Stegner Fellowship. She has most recently been selected to receive a 2014 Rona Jaffe Foundation Writer's Award as well as a Ruth Lilly and Dorothy Sargent Rosenberg Fellowship. She holds degrees from U.C. Berkeley, where she studied and taught with June Jordan's Poetry for the People, and New York University. She is currently a Jones Lecturer at Stanford University.