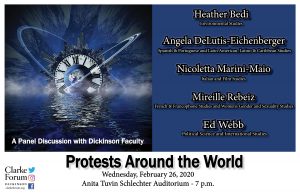 Wednesday, February 26, 2020
Anita Tuvin Schlechter Auditorium – 7 p.m.
Panel of Dickinson Faculty
Heather Bedi, environmental studies
Angela DeLutis-Eichenberger, Spanish & Portuguese and Latin American, Latino & Caribbean Studies
Nicoletta Marini-Maio,  Italian and film studies
Mireille Rebeiz, French & Francophone and women's, gender & sexuality studies
Ed Webb,  political science and international studies
Protests are breaking around the world, and people are demanding immediate action and calling for changes in governmental, political, and environmental policies. What sparked these protests, and what is next for many of the countries involved? Panelists will address world-wide environmental activism as well as political protests in Algeria, Chile, Iraq, Italy, and Lebanon.
This program in sponsored by the Clarke Forum for Contemporary Issues.
Biographies (provided by the panelists)

Heather Bedi is an assistant professor of environmental studies at Dickinson College. Funded by the Cambridge Political Economy Society Trust, she completed a Ph.D. in human geography from the University of Cambridge. Bedi's research examines how civil society and socio-environmental movements experience and adapt to natural resource and landscape modifications related to energy processes, climate change, industrialization, and agricultural transitions. Her broader research and teaching interests include environmental and social justice, political ecology, development, planning, and low carbon futures. Her current work examines the everyday of energy poverty, solar energy access, and climate change vulnerabilities in South Asia. Bedi also examines energy injustice through the lens of shale gas extraction (fracking) in the United States. She serves on the Pennsylvania Department for Environmental Protection's Environmental Justice Advisory Board and the Cumberland County Food System Alliance leadership team.  Bedi was a Fulbright-Nehru Academic & Professional Excellence Fellow in India.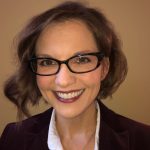 Angela DeLutis-Eichenberger earned her Ph.D. from the University of Maryland in Spanish language and literature in 2010. Her research primarily focuses on the nineteenth century and the Southern Cone, with particular emphasis on Chile. Her work has appeared in Bulletin of Spanish Studies, Revista Hispánica Moderna, Bulletin of Hispanic Studies, as a chapter in the book, Del aire al aire: Negotiating Space in Latin America, edited by Patricia Vilches, Brill Publishers, and in Decimonónica. She currently serves as an assistant professor in the Departments of Spanish and Portuguese, and Latin American, Latino and Caribbean Studies at Dickinson.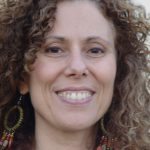 Nicoletta Marini-Maio is associate professor of Italian and film studies at Dickinson College. In 2013-2014, she received the Wolf Humanities Center Regional Fellowship on Violence at the University of Pennsylvania for her research on the cinematic and theatrical representations of the 1978 abduction and assassination of Italian statesman Aldo Moro.  She is a Member of the Modern Italian Studies Seminar at Columbia University, NY (2015—) and an elected member of the Modern Language Association (MLA) 20th-Century Italian Literature Executive Committee (2015-2019). Her research centers on the intersections between politics, historical narrative and fiction, popular culture, and gender in Italian cinema and television. She is the author ofA Very Seductive Body Politic: Silvio Berlusconi in Cinema (Mimesis: Milan, 2015). Her publications include articles on terrorism in film and theater during the 1970s, coming-of-age in Italian cinema, auteur cinema, two pedagogical volumes, and a critical translation. She is co-author and co-principal investigator of the collaborative project entitled La nazione Winx: Educare la futura consumista (Winx Nation: Grooming the Future Female Consumer), forthcoming from Rubbettino, Italy, in 2020. She is currently completing a monograph on the Aldo Moro Affair and two articles on the Decamerotici, a series of Italian films produced in the 1970s and inspired by Boccaccio's Decameron and on the Italian television series Baby (Netflix). Marini-Maio is the founder and editor of gender/sexuality/italy (g/s/i ), an academic journal on constructions of femininity and masculinity in Italian culture. For more information about Marini-Maio, please see http://blogs.dickinson.edu/marinin/.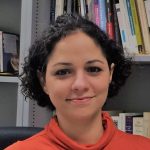 Mireille Rebeiz  is assistant professor of Francophone Studies & women's gender and sexuality studies at Dickinson College. She is also a contributing faculty member to the Middle East Studies Program. Rebeiz received her Ph.D. from Florida State University in 2012. She has a master's degree in international law and human rights from the Université de Rouen in France and a bachelor's degree in private law from Université Saint-Joseph in Lebanon. In her teaching and research, she examines issues related to migration and pop-culture in postcolonial France, representations of gender and sexuality in Arab women's narratives, memory and trauma in Middle Eastern women's writings of the war, and women and refugee's rights in zones of armed conflicts with a focus on North Africa and the Levant. She is the author of several journal articles, and her book Gendering Civil War: Francophone Women's Writing in Lebanon is currently under peer-review.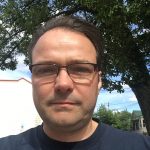 Ed Webb served with Britain's Diplomatic Service 1992-2000, much of that time in Cairo, before completing a Ph.D. at the University of Pennsylvania. He is associate professor of political science and international studies, helped establish Dickinson's Middle East Studies Program, and contributes to several other interdisciplinary programs. Author of Media in Egypt and Tunisia: From Control to Transition? (Palgrave 2014), he has also published articles and book chapters on authoritarianism, education policies in Turkey and Tunisia, censorship in the Arab world, and Doctor Who. He is currently learning Italian in preparation for taking up the directorship of Dickinson's program in Bologna 2020-22. He is @edwebb on Twitter.
Related Links
– On the "Sardines" Italian protest movement against the far-right: https://www.aljazeera.com/news/2019/12/italy-sardines-pack-rome-anti-rally-191214182952698.html and https://www.nytimes.com/2019/12/14/world/europe/italy-sardines-salvini.html
– On the far-right ascent in Italy and Europe: https://www.cnbc.com/2020/01/13/matteo-salvini-return-a-regional-vote-in-italy-risks-further-chaos-in-rome.html and https://www.youtube.com/watch?v=BGGSlsQQ6ks and https://www.cnbc.com/2020/01/13/matteo-salvini-return-a-regional-vote-in-italy-risks-further-chaos-in-rome.html