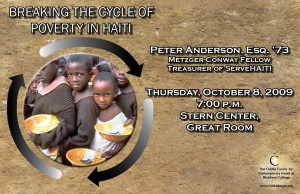 Metzger-Conway Fellow,
Treasurer of ServeHAITI
Breaking the Cycle of Poverty in Haiti
(Part of The Clarke Forum's series on "Leadership in an Age of Uncertainty")
Thursday, October 8, 2009
Stern Center, Great Room, 7:00 p.m.
The discussion will focus on the cultural and economic challenges to providing healthcare to poor Haitians in the rural and mountainous region of Grand Bois. In particular, the talk will address the subtle causes of infant mortality and specific issues regarding women's health.
Topical Background
Haiti is the poorest country in the Western Hemisphere. It was the first black republic to declare its independence in 1804 and since then it has been plagued by political violence for most of its history. After the forced resignation and exile of President Jean-Bertrand Aristide in February 2004, a provisional government was established under the United Nations Stabilization Mission in Haiti (MINUSTAH). This provisional government was charged with organizing new elections and in May 2006 Haiti inaugurated its first democratically elected president and parliament.
According to the Haiti Micah Project, a nonprofit Christian organization committed to addressing the needs of impoverished and uneducated street children in Haiti, the following bullet points provide a snapshot of Haiti's condition:
•        The government is not able to provide the resources to educate the nation's next generation.
•        The unemployment rate is over 80%.
•        More than half of Haitians live on less than a dollar a day.
•        There are few paved roads, inadequate supplies of potable water, minimal utilities, and depleted forests.
•        About 60% of the population lives in abject poverty.
•        Less than 20% of Haitians age 15 and over can read and write.
•        Fewer than 75% of children attend school.
•        40% of the Haitian population does not have access to primary health care.
•        The United Nations estimates 6% of Haitians are infected with HIV/AIDS, which is the highest rate of infection in the Western Hemisphere.
•        An estimated 30,000 Haitians die of AIDS every year.
Biography (provided by the speaker)
Peter Anderson, a partner in Sutherland's Litigation Practice Group, has practiced in the securities regulatory and enforcement arena for approximately 30 years. His practice involves representing public companies, their officers and directors, along with financial services, accounting and law firms and their principals in SEC enforcement actions, Department of Justice investigations and criminal prosecutions, and complex civil litigation. Peter also represents brokerage firms, broker-dealers and individual brokers before the Securities and Exchange Commission, all self-regulatory organizations, and state securities regulators and attorneys general in investigations relating to supervision, suitability, sales practices and insider trading. Peter frequently conducts investigations at the request of audit and special committees of the boards of directors of both public and private companies. Such representations have included investigation into violations of the Foreign Corrupt Practices Act, stock option backdating, securities sales practice abuses, financial reporting fraud, and financial defalcation. Peter writes, speaks and lectures regularly on securities compliance, regulatory and enforcement issues, accountant liability, and corporate governance. His securities litigation experience includes the defense of multi-district class actions, as well as the defense of financial services and accounting firms in more than 40 federal and state jury trials and in numerous complex securities arbitrations.
Peter's principal outside interest and passion is his involvement in ServeHAITI, a 501(c)-3 nonprofit organization that provides medical care and treatment to people residing in the mountains of Haiti through the operation of a medical clinic and a water purification program. Peter is ServeHAITI's treasurer and a member of its board of directors.
Representative Experience
Examples of Peter's extensive litigation experience include the following:
• Was appointed in May 2008 by the U.S. District Court in Florida, at the request of the SEC, and continues to serve as Receiver over North American Clearing Inc., a financial brokerage entity.
• Represented one of the four Arthur Andersen engagement partners of Enron in connection with the SEC and DOJ investigations. The partner was neither charged by the SEC, indicted by DOJ, nor caused to lose his CPA licensure status.
• Represented a Deloitte & Touche partner in an SEC investigation into financial fraud at Just For Feet Inc. The partner was not charged by the SEC, although the firm and other professionals settled.
• Represented the Chairman and CEOs of Witness Systems Inc. and Scansource Inc. in connection with SEC investigations of stock option backdating. Neither was charged by the SEC.