Cultural Historian, Actress, and Dancer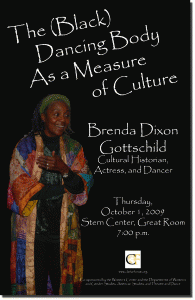 The (Black) Dancing Body as a Measure of Culture
Thursday, October 1, 2009
Stern Center, Great Room, 7:00 p.m.
Through dance demonstrations and visual images, Dixon Gottschild examines the pervasive Africanist presence in American culture and the sociopolitical implications of its invisibility. With dance as the focus and race the parameter, she reveals Africanisms in modern and postmodern dance and American ballet.
A book signing will follow the presentation.
Topical Background
Cultural appropriation is the adoption of practices and traditions from a specific culture by another group of people. This usually involves mimicking or borrowing musical techniques, dance styles, or other art forms.
The term "Africanist," as used by Brenda Dixon Gottschild, refers to concepts, practices, attitudes, and forms that are rooted in Africa or African culture. The term originated in the works of American anthropologist Melville J. Herskovits. In Myth of the Negro Past (1941), Herskovits was one of the first to examine African influences on both African Americans and whites in the United States. Others to use the term include author Toni Morrison, who describes Africanism in her book Playing in the Dark: Whiteness and the Literary Imagination (1992), which explores the presence of African stereotypes in European-influenced literature.
The cultural appropriation of Africanist traditions by European-American society likely began in blackface minstrel shows during the nineteenth century. Since these shows represented African Americans as unintelligent, uneducated individuals, they were racist and demeaning in character. An era known as the Harlem Renaissance in the early 20th century saw the rise of many prominent African-American entertainers, including poet Langston Hughes and jazz musicians Louis Armstrong and Ella Fitzgerald. Jazz and the blues, themselves rooted in the work songs of African-American slaves, strongly influenced the 1950's rock n' roll movement, particularly the work of Elvis Presley. Today, art forms traditionally associated with African-American culture, such as rap and hip-hop, continue to affect European-American society. From music and dance to literature and social behavior, African-American customs have deeply shaped European-American culture.
Biography (provided by the speaker)
Brenda Dixon Gottschild is the author of Digging the Africanist Presence in American Performance: Dance and Other Contexts (Greenwood Press 1996, paper 1998); Waltzing in the Dark: African American Vaudeville and Race Politics in the Swing Era (Palgrave/St. Martin's Press 2000, paper 2002 – winner of the 2001 Congress on Research in Dance Award for Outstanding Scholarly Dance Publication); and The Black Dancing Body-A Geography from Coon to Cool (Palgrave/Macmillan 2003, paper 2005 – winner of the 2004 de la Torre Bueno prize for scholarly excellence in dance publication). In 2008 she was awarded the Congress on Research in Dance Award for Outstanding Leadership in Dance Research; and a grant from The Pew Center for Arts and Heritage through Dance Advance to begin work on a new book, titled Joan Myers Brown and The Improbable Hope of the Black Ballerina- an American Portrait. She is Professor Emerita of dance studies at Temple University and a senior consultant and writer for Dance Magazine. She performs with her husband, choreographer Hellmut Gottschild, in an innovative form of somatic and research-based collaboration for which they coined the term, "movement theater discourse."
Co-sponsored by the Departments of American Studies, Women's and Gender Studies, Theatre and Dance and the Women's Center.
Video of the Program