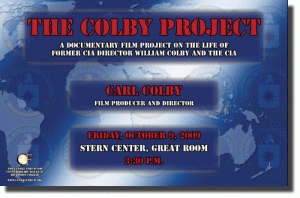 Film Producer and Director
The Colby Project
Friday, October 9, 2009
Stern Center, Great Room, 3:30 p.m.
Carl Colby, an Emmy Award winning documentary filmmaker, will discuss his soon-to-be-released feature-length documentary film on his late father, William E. Colby, a lifelong CIA officer and former director of the CIA. The film uncovers the truths behind the myths of the life of an American spy and the consequences of leading such a secret life on his nation and his family.
Topical Background
The CIA
The Central Intelligence Agency, or CIA, was created in the aftermath of World War II to fulfill the country's need for a permanent, centralized source of intelligence. Under President Truman's National Security Act of 1947, the CIA was charged with coordinating the nation's intelligence activities, analyzing intelligence that affected national security, and performing other duties and functions as needed. The Act also created a Director of Central Intelligence (DCI) to head the Intelligence Community and serve as the president's principal intelligence adviser.
William Colby
William Colby began his career during World War II serving in the Office of Strategic Services (OSS), the CIA's precursor. After the OSS's disbandment, he joined the newly created CIA. Prior to and during the Vietnam War, Colby served as the Station Chief in Saigon, the Chief of CIA's Far East Division, and director of the Phoenix Program. In 1973, President Nixon appointed Colby the Director of the CIA. He served as the DCI under Nixon and under President Ford until 1976.
Biography (provided by the speaker)
Carl Colby began his career in the art business in Washington and New York working with art and architecture dealer Max Protetch. While attending Georgetown University, he was president of the University Film Society where he hosted tributes to Milos Forman, Larry McMurtry, Liv Ullman and Billy Friedkin under the banner of the Master Filmmakers Series. He graduated with a B.A. in Philosophy.
Upon graduation, he produced and directed a film on Washington artist Gene Davis, and Fat Tuesday, a musical documentary on the New Orleans Mardi Gras, a favorite of the midnight festival circuit and winner of Best Film at the USA Film Festival, in Dallas, Texas.
He moved to New York and directed a TV series of musical performance films for Unitel/Beta/Taurus Film of Munich and PBS's Great Performances on the legendary Kid Thomas Valentine and the Preservation Hall Jazz Band, Clifton Chenier and His Red-Hot Louisiana Band, and Clarence 'Gatemouth' Brown, on location in New Orleans, in Baton Rouge, Louisiana, and surrounding Cajun Country.
He produced a TV version of "One Mo' Time!", the Obie Award winning New Orleans musical which he brought to NYC and which ran both on and off-Broadway for more than 3 years, including a year on London's West End. He also served as co-director of a musical film on Bob Marley at the Smile Jamaica Concert, in Kingston, Jamaica, for Chris Blackwell, founder of Island Records.
He wrote, produced and directed Jack-A-Boy, an adaptation of a short story by Willa Cather, set in New Orleans, starring Jean Marsh and Fred Gwynne, with music by Jelly Roll Morton and Scott Joplin, broadcast on PBS, CBS Cable and Disney Channel.
He was a director-for-hire, directing commercials, corporate communications films, and television specials sponsored by clients such as AT&T, E.F. Hutton, Ralph Lauren/Polo, EDS, ARCO, United Technologies, Lockheed Martin, Sony, and Ford Motor Company, including Museum narrated by Michael York, Thundering Hooves narrated by John Cullum, and Visiones Del Pueblo, narrated by Ruben Blades.
Growing up as the son of former CIA Director William E. Colby, he lived abroad for most of his youth. His many documentary productions have taken him all over the world, on assignment in more than 30 countries, from 300 miles above the Arctic Circle in Norway, to Italy, Jamaica, Singapore, Japan, France, England, Sweden, Spain, Germany, Russia, Switzerland, Mexico, Ireland, and many others.
His productions have featured appearances by some of the world's most noted personalities, including Katharine Hepburn, Willem de Kooning, John Glenn, Gianni Agnelli, H. Ross Perot, David Rockefeller, Leslie Wexner, Ralph Lauren, Condoleezza Rice, Colin Powell, Dustin Hoffman, Wesley Clark, Frank Gehry, Robert Mapplethorpe, Sigourney Weaver, Mel Gibson, Bob Marley, Franco Zeffirelli, Queen Silvia of Sweden, John McCain, Romano Prodi, Carlos Salinas, and Venus and Serena Williams.
His film credits include Franz Kline Remembered, a profile of the notable Abstract Expressionist painter, sponsored by ARCO for PBS's series "Strokes of Genius"; Liberty: The Legacy of Magna Carta, a period dramatization of the historic events at Runnymede in 1215, for H. Ross Perot and EDS; Zeffirelli's Tosca for PBS/ Texaco, the winner of an Emmy Award.
Other assignments required being on location in the Atlantic and Caribbean Sea aboard the aircraft carrier USS John F. Kennedy; on location in northern Norway on "Avalanche Express" winter exercises with the US Marine Corps; in Bitburg AFB, Germany with the USAF's 36th tactical Fighter Wing; and on air-assault Blackhawk helicopter maneuvers with the 101st airborne Division in Kentucky and Tennessee.
Upon locating to Los Angeles, he continued producing and directing numerous documentary profiles including Legends in Light, a celebration of famous Hollywood glamour photographer, George Hurrell. The film is a look-back to the Golden Age of Hollywood and features appearances by legends Katharine Hepburn, Loretta Young, and Raquel Welch and stars Sharon Stone, Sean Young and Sherilynn Fenn. The film was sponsored by Canon for Turner/TNT.
He pursued his interest in space exploration, producing and directing the award-winning film Voyager: The Grand Tour celebrating the Voyager missions. Sponsored by Lockheed Martin with CGI animation by JPL/NASA, the film was translated into four languages with over 125,000 VHS videocassettes in distribution. This film won First Prize at the 3rd International Animation Festival, in Hiroshima, Japan, where John Lasseter of Pixar (and now Head of Disney Animation) was the chief judge.
The Astronomer's Dream is a high-definition (HDTV) profile of astronomer Johannes Kepler. It was the first all-digital HDTV video project produced by Sony's Visual Communication Center and features computer animation created in association with JPL/NASA. The world premiere was held at the Electronic Cinema Festival in Montreux, Switzerland.
He wrote, produced and directed two promotional films for D.A.R.E /America, narrated by Mel Gibson, with a recent updated version narrated by actor Ving Rhames, both sponsored by Warner Bros., as a pro bono effort to help kids resist drugs and gang-related violence.
He also produced multiple public-service announcements for D.A.R.E., starring tennis champions Venus and Serena Williams, which were broadcast more than 20,000 times across the US.
Extending his relationship with Sony, he produced and directed a series of four short HDTV (high-definition) films for Sony's Visual Communication Center under the direction of Nobuyuki Idei, Chairman and CEO of Sony Corporation, to introduce the rollout of the new media's product line and showcase the resolution quality of HDTV.
These HDTV films were produced in collaboration with JPL/NASA and feature the most accurate and sophisticated animation of these extraterrestrial landscapes and terrains ever produced. The result was the transition of mastering media from analog to digital HD through all interplanetary Mission Planning at JPL and NASA TV network.
The digital HDTV films include Venus Unveiled narrated by Sigourney Weaver; Jupiter The Giant, narrated by Powers Boothe; Destination Mars, narrated by Granville Van Dusen. These short HDTV films were screened continuously in Sony's first HDTV Sony Wonder theatres in New York, Tokyo, San Francisco, Berlin, and other worldwide Sony HDTV venues.
He also served as the vice president of production for Dreamtime Holdings, Inc., (Dreamtime) NASA's former exclusive multimedia partner, with responsibilities for the development and production of all TV specials and series and alternative programming. He also served as the head of production of Dreamtime Studios, based in Los Angeles.
He directed Ground Zero, a documentary on futuristic designs for the World Trade Center site. The film, a colloboration with Max Protetch, was exhibited at the 2002 Venice Biennale in Italy. The project follows the design process and profiles many of the world's most celebrated architects, including Jean Nouvel, Steven Holl, and Daniel Libeskind.
He produced and directed Mister Gehry Goes to Washington, a film profile of legendary architect Frank Gehry and his radical designs for Disney Hall in Los Angeles and for the proposed New Wing of the Corcoran Gallery of Art in Washington, DC.
He developed Out of the Shadows for CBS Entertainment with Roger Birnbaum of Spyglass Entertainment. It is a series of gripping documentary profiles of the unsung heroes of U.S. intelligence including legendary CIA, FBI, DEA, ATF and LAPD agents.
He directed A Dialogue of Generosity, a documentary profile of the Shakespeare Theatre and new Harman Center for the Arts, one of the finest classical and repertory theatres in America, based in the Nation's Capital, with Hal Holbrook, Dixie Carter, Christopher Plummer, Harry Hamlin, Sydney Harman and NEA Chairman Dana Gioia.
He designed and organized La Serenissima, a major conference on the history of Venice and its implications for the survival of the U.S. and other modern nation states. The Conference was sponsored by C. Boyden Gray, U.S. Ambassador to the European Union, William A. Nitze, the Embassy of Italy and Giorgio Cini Foundation in Venice.
He directed a film about The White House Fellows Program, America's most prestigious program dedicated to leadership and public service, with President George Bush, Colin Powell, Condoleezza Rice, Tommy Thompson, Robert Mueller, Tom Ridge, Bob Woodward, Wesley Clark, Robert Rubin, John McCain and David Rockefeller.
He created Innocents at Risk, an anti-child trafficking advocacy video with the Departments of Justice and State, with testimonials from young victims and survivors, Queen Silvia of Sweden, Congressman Chris Smith, singer Ricky Martin, and others.
For Meridian International Center, he designed and created a public affairs series, The Need To Know: Intelligence for the 21st Century, featuring speakers John McLaughlin, former Deputy Director of the CIA; Robert Grenier, former Director of the CIA Counter Terrorism Center; Tim Roemer, former Congressman and a member of 9/11 Commission; Walter Pincus, National Security Journalist; and David Ignatius, Op/Ed Columnist of the Washington Post; and Edward Luttwak, Author and Journalist, among many others.
He organized Spirit Into Shape for Meridian, an exhibit of contemporary Italian sculpture and symposium on the Figurative Tradition in Italian Art with the Embassy of Italy, with Bruce Cole, Chairman of The National Endowment for the Humanities, and Manfredi Piccolomini, former Cultural Director, Foundation for Italian Art and Culture.
He organized a symposium for Meridian on Le Marquis de Lafayette and the Spirit of Revolution with the Embassy of France. Celebrating the 250th anniversary of Lafayette's birth, the symposium examined the exceptional relationship of France and America. Panelists included Stacy Schiff, James Billington, Jim Hoagland and Amory Houghton. Sponsors included AREVA, Sodexho, American Airlines, and H.E. Lenfest.
He organized an exhibition and symposium for Meridian on Shigeru Ban: Paper Houses and the Architecture of Disaster Relief in cooperation with the Embassy of Japan and National Building Museum. This exhibition and symposium celebrated Shigeru Ban, one of the world's most innovative architects, and highlighted the usage of zero-waste materials in constructing temporary shelters for victims of natural disasters worldwide.
He organized an exhibition and a symposium for Meridian on Jam Session: America's Jazz Ambassadors. These events celebrated the 50th anniversary of the 1958 jazz tours of the Soviet Union, Poland, Africa, India, Pakistan, Egypt and other nations by jazz greats Louis Armstrong, Dave Brubeck, Clark Terry, Thelonius Monk, Quincy Jones and others. The event also featured an appearance by jazz legend Dave Brubeck.
He recently finished Invisible: Abbott Thayer and the Art of Camouflage, an hour profile of Abbott Thayer, artist, environmentalist and inventor of camouflage. Narrated by Jane Alexander, an interview with P.J. O'Rourke, and readings from Twain, Emerson, Thoreau, this film is a presentation of New Hampshire PTV for National PBS.
He is directing a feature-length documentary, The Colby Project, (working title), utilizing the controversial personal and professional life of the late William E. Colby, former CIA Director and Carl's father, as a prism through which to chart the evolution from WWII to today of the intersection of the CIA and America's Constitutional values.
Carl Colby is a trustee of the Corcoran Gallery and College of Art in Washington DC. He is also on the board of directors of The OSS Society.
Video of the Program