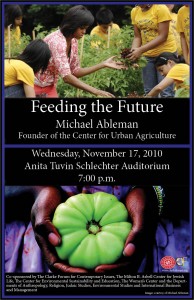 Author, Educator, and Urban Agriculturalist
Feeding the Future
Wednesday, November 17, 2010 *
Anita Tuvin Schlechter Auditorium – 7:00 p.m.
Michael_Ableman_11_17_2010

A reception will immediately follow the presentation in the lobby of ATS. Book signing by the author and the opportunity to purchase Fields of Plenty will be offered at the reception.
Food may be the dominant issue of our time. The industrial system that brings it to us is unraveling, and the cost of that system, ecologically, socially, and personally is enormous.
But there is hope, individuals and communities are gathering together to rethink our food system, bringing honor and respect and craftsmanship back into farming, and recreating our farms as places that nourish and nurture and teach and inspire.
Join Michael Ableman for an evening of inspiring stories and photographic imagery from around the world as he provides us with a sense of how we can participate in the solutions; on our farms and in our gardens, in our kitchens and at the dining room table, and in the communities where we live.
* This event is part of The Clarke Forum's series on Leadership in an Age of Uncertainty.
This event is co-sponsored by The Clarke Forum for Contemporary Issues and The Milton B. Asbell Center for Jewish Life, The Center for Environmental Sustainability and Education, The Women's Center and the Departments of Anthropology, Religion, Judaic Studies, Environmental Studies and International Business and Management
Biography (provided by the speaker)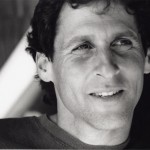 Michael Ableman is a farmer, educator, and the founder and executive director emeritus of the Center for Urban Agriculture, where he farmed from 1981 -2001. He is the author and photographer of From the Good Earth (Abrams, 1993), On Good Land (Chronicle Books, 1998), and Fields of Plenty (Chronicle Books 2005) and the subject of the award winning PBS film Beyond Organic narrated by Meryl Streep.
Ableman's writing and photographs have appeared in publications and solo exhibitions throughout the world. He lectures extensively in the U.S. and in Europe. His work has been profiled in numerous print and broadcast media nationally and internationally including National Geographic, NPR, the BBC, the Utne Reader, Gourmet Magazine, the L.A. Times, the NY Times and many others.
Ableman has received numerous awards for his advocacy and work in sustainable agriculture and he has helped to inspire dozens of projects and initiatives throughout North America.
He is currently farming in British Columbia, Canada with his wife and two sons at the historic Foxglove Farm where he also directs The Center for Arts, Ecology, and Agriculture.
For more information visit http://www.fieldsofplenty.com/writings/feedingourfuture.php
Video of the Program