Martin Burt, Fundación Paraguaya
Margee Ensign, Dickinson College
A Conversation with President Margee Ensign and Global Entrepreneur Martin Burt
Monday, February 26, 2018
Anita Tuvin Schlechter Auditorium, 7 p.m.
Ensign and Burt will discuss what it means to be a social entrepreneur; ways to envision a life in the areas of social innovation, advocacy, and social change; and the possibilities of entrepreneurship as a mechanism for reducing poverty.
This event is sponsored by the Clarke Forum for Contemporary Issues and co-sponsored by the Social Innovation and Entrepreneurship (SINE) Certificate Program and the Department of International Business & Management. This program is also part of the Clarke Forum's Leadership in an Age of Uncertainty Series.
Biographies (provided by the speakers)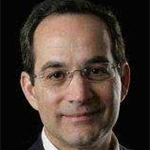 Martin Burt is founder (1985) and CEO of Fundación Paraguaya, a 33-year old NGO devoted to the promotion of entrepreneurship and economic self-reliance to eliminate poverty around the world. He is a pioneer in applying new poverty metrics, microfinance, micro-franchise, youth entrepreneurship, financial literacy and technical vocational methodologies to address chronic poverty around the world. He has developed one of the world's first financially self-sufficient agricultural and tourism high schools for the rural poor. He is co-founder of Teach a Man to Fish, a global network based in London (3000 members-150 countries) that promotes "education that pays for itself" and which is partnering with more than 50 organizations from 27 countries to establish self-sufficient schools, mostly in rural areas. He has also developed the Poverty Stoplight, a new poverty measurement tool and coaching methodology that assists families to self-diagnose their level of multidimensional poverty and develop customized plans to eliminate poverty. This new metric is now being implemented in more than 30 countries by more than 100 organizations, including the U.S. and the UK.  Burt is currently a member of the board of directors of the Schwab Foundation for Social Entrepreneurship at the World Economic Forum and of the Global Foodbanking Network. In public service, he has served as chief of staff to the president of Paraguay, was elected mayor of Asunción, and was appointed vice minister of commerce. Burt has books published on economics, development, municipal government, poetry, and education and has received numerous awards. He holds a Ph.D. from Tulane University Law School and is a visiting professor of social entrepreneurship at Worcester Polytechnic Institute and distinguished visiting professor at University of California, Irvine. Martin Burt was born in Asunción, Paraguay in 1957 where he resides with his family.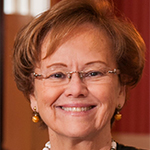 Margee M. Ensign became Dickinson College's 29th president on July 1, 2017. Prior to Dickinson she served for seven years as president of the American University of Nigeria (AUN), a young, private university focused on development based on the U.S. model of university education. There, she oversaw the building of the sustainable campus, the creation of the finest digital library on the continent, and a very active program of community engagement and humanitarian assistance. AUN is located in Yola, the capital of Adamawa state, one of the three northeastern Nigerian states that have been under a state of emergency because of the Boko Haram insurgency. To deal with the crisis, Ensign co-founded and led the Adamawa Peace Initiative (API), a Yola-based response to the escalating violence, which successfully promoted peace in the area through education, empowerment and community development while feeding 300,000 refugees fleeing the fighting to the north.
Ensign has been internationally recognized for her pioneering work at AUN, including receiving the 2011 African Leadership Award in Educational Excellence, granted by London-based African Leadership Magazine. Rotary International made her a Paul Harris Fellow in 2012. In 2014, Ensign received the African Leadership Award from the World Centre for Corporate Social Responsibility. In 2015, the Women of Jama'atul Nasril Islam in Nigeria recognized her for her contributions to leadership, philanthropy, and education of women and girls in northeast Nigeria. She also received an honorary degree from the American University of Paris for her pioneering academic and humanitarian work.
Ensign worked in Africa for 15 years and served as an advisor to the governments of Uganda and Rwanda. She is a widely published scholar whose work focuses primarily on the challenges of international development as well as on the implications of development assistance. She co-authored Rwanda: History and Hope, co-edited Confronting Genocide in Rwanda and is the author of Doing Good or Doing Well? Japan's Foreign Aid Program and Images and Behavior of Private Bank Lending to Developing Countries.
Prior to AUN, Ensign served as dean of the School of International Studies and associate provost for international initiatives at the University of the Pacific in California. At Pacific, she set up undergraduate and graduate programs in social entrepreneurship, inter-American studies and intercultural relations. She also established the Gerber Lecture Series that attracted such globally renowned speakers as Archbishop (emeritus) Desmond Tutu of South Africa, President Michelle Bachelet from Chile, President Paul Kagame of Rwanda, Vice-President Gilbert Bukenya of Uganda, President César Gaviria of Colombia, and Prime Minister Gro Harlem Brundtland of Norway.
Ensign earned her B.A. from New College in Florida and her Ph.D. in international political economy from the University of Maryland. She began her academic and administrative career at Columbia University in New York City. There, she was both assistant professor of politics and economics and director of the international political economy program.
From Columbia, she became director of USAID's development studies program at Tulane University and a professor at Tulane's international development program, offering advanced programs at the master's and Ph.D. levels in international development. She also has taught as visiting professor at Georgetown University and American University in Washington, D.C.
Video of the Discussion