Political Cartoonist, Satirist & Television Writer
Tuesday, February 7, 2017
Stern Center, Great Room, 7 p.m.
"La Cucaracha" and Political Satire
Alcaraz will present an illustrated lecture on his cartoons, work in political satire, and writing/producing in Hollywood.
This program is sponsored by the Clarke Forum for Contemporary Issues and co-sponsored by the Churchill Fund, Departments of Latin American, Latino & Caribbean Studies;  Spanish & Portuguese; and The Trout Gallery. It is  part of the Clarke Forum's Leadership in an Age of Uncertainty Series and also part to the Clarke Forum's semester theme, Media, Technology and Civic Engagement.
Biography (provided by speaker)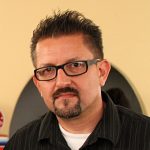 Lalo Alcaraz is the creator of the first nationally syndicated, politically themed Latino daily comic strip, "La Cucaracha," which is read in American newspapers nationwide, including the Los Angeles Times. Lalo's comics are syndicated by Universal Uclick, home of "Doonesbury" and "The Boondocks." Lalo produced editorial  cartoons for The LA Weekly from 1992-2010 and now creates  editorial cartoons in English and Spanish for Universal. Lalo's books include Latino USA: A Cartoon History (2000 by Basic Books), and Migra Mouse: Political Cartoons On Immigration (2004). Alcaraz also authored the first collection of his daily comic strips, "La Cucaracha." (2004, Andrews-McMeel Publishing.), and Imperfect Union: A Contrarian History of the United States (2014 by Basic Books). Lalo taught editorial illustration at Otis College of Art & Design in Los Angeles in 2013.
Alcaraz was a writer and producer of "Bordertown," the animated TV show on FOX, which
ran for one triumphant 13 episode season before being canceled. Lalo is also consultant on the upcoming 2017 Pixar film, COCO. Alcaraz was a segment producer on Al Madrigal's (Daily Show) "Half Like Me" comedy special for Fusion/ABC. Lalo is also featured on the upcoming HBO Latino program "Habla y Vota" special along with George Lopez and Jorge Ramos.
Lalo Alcaraz has received five Southern California Journalism Awards for Best Cartoon in  Weekly Papers, and numerous other awards and honors, including The Latino Spirit Award from the California Legislature and the Office of the Governor, honors from the Los Angeles City Council, The California Chicano News Media Association, the UC Berkeley Chicano Latino Alumni Association, the United Farm Workers of America, the Los Angeles County Federation of Labor, the Center for the Study of Political Graphics, and The Rockefeller Foundation. Lalo has been honored by dozens of small and large community organizations for his work in political cartooning and advocacy for the Latino and immigrant community.
Lalo Alcaraz is the co-host of KPFK Radio's wildly popular satirical talk show, "The Pocho Hour of Power," heard Fridays at 4pm in L.A. on 90.7 FM, and co-founded the seminal Chicano humor 'zine, POCHO Magazine. Alcaraz also co-founded the political satire comedy group Chicano Secret Service. He is Jefe-In-Chief of satire website, pocho.com.
Alcaraz is a 1987 graduate of San Diego State University, where he received his bachelor's degree  with Distinction in art and environmental design. In 1991, Alcaraz earned his master's degree in architecture from the University of California, Berkeley.