Former Congressman and a Former U.S. Navy Three-Star Admiral and 2013-14 General Omar N. Bradley Chair in Strategic Leadership
Leadership to Restore the American Dream
Monday, November 4, 2013
Penn State Dickinson School of Law
Lewis Katz Hall Auditorium, 6 p.m.
Link to Penn State Dickinson School of Law Web site
"We once had leaders who recognized the expectations of the people, and turned them into demands that advanced the American Dream for both individual opportunity and the common good of the nation. Leadership must once again be accountable for brokering the shared alliance that deepens the individual strengths of these two great values of our American character so that we can restore the dream," Sestak said.
His presentation will draw on his distinguished 31-year career in the U.S. Navy and his tenure as director for defense policy on the National Security Council, the first director of "Deep Blue," the U.S. Navy's counterterrorism unit, a sea-going Commander of an aircraft carrier battle group in war, and a U.S. Congressman representing Pennsylvania's 7th Congressional District.
Sestak plans to discuss the American Dream, the belief that one's children will have the opportunity to do even better than their parents. "It was a unique alliance of rugged individualism and our collective response to challenges that created an unparalleled environment in America for this opportunity," he said. He will address what is missing in today's leadership which he identifies as a willingness to be accountable for this special character of America.
Biography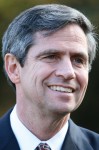 Joseph Sestak was born and raised in Pennsylvania, graduated from the U.S. Naval Academy and served 31 years in the U.S. Navy, attaining the rank of 3-star Admiral. He led a series of operational commands at sea, culminating in command of the GEORGE WASHINGTON Aircraft Carrier Battle Group during combat operations in Afghanistan and Iraq. He served as President Clinton's director for Defense Policy in the National Security Council; as head of "Deep Blue", the Navy anti-terrorism unit focused on the "Global War on Terrorism"; and oversaw the Navy's five year $350 billion warfare budget as Deputy Chief of Naval Operations.  After the Navy, Sestak was elected to Congress from Pennsylvania's 7th Congressional District in 2007, where he served through 2010 when he ran for the U.S. Senate. The highest-ranking former military officer ever elected to Congress, The National Journal identified him as "at the ideological center of the House," while the House Majority Leader named Sestak the "most productive" representative in his class, through his service on the Armed Services Committee, the Education and Labor Committee, and as vice chairman of the Small Business Committee. While in the Navy, Sestak received a master's in public administration, and a Ph.D. in political economy and government from Harvard University. Married to Susan, and Dad to Alex, he resides in Edgmont, Pennsylvania.
General Omar Bradley Chair in Strategic Leadership
The Omar Bradley Chair is a joint initiative among the United States Army War College, Dickinson College and Penn State University Dickinson School of Law and School of International Affairs. Its objective is to advance the study of strategic leadership and enhance civilian-military dialogue by offering distinguished individuals the opportunity to contribute to the educational and research activities of the partner institutions. Previous chair-holders include former director of national intelligence and retired United States Navy four-star Admiral Dennis Blair and Pulitzer Prize-winning historian and journalist Rick Atkinson.