University of Delaware
The Bruce R. Andrews Lecture
Why People Believe Conspiracy Theories
Monday, February 4, 2019
Anita Tuvin Schlechter Auditorium, 7 p.m.
Miller will discuss her research on the roots of conspiracy theory beliefs, including the motivating forces of self-concept preservation, uncertainty, and powerlessness.
The event is sponsored by the Clarke Forum for Contemporary Issues and the Bruce R. Andrews Fund.
Biography (provided by the speaker)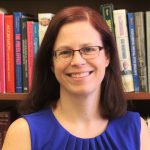 Joanne M. Miller is associate professor of political science and associate professor of psychology and brain sciences at the University of Delaware. Her work, which has been funded by the National Science Foundation and the Pew Charitable Trusts, centers on the psychological underpinnings of political attitudes and mass behavior. She is the recipient of three best paper awards from the American Political Science Association, including the Paul Lazarsfeld Award for the best paper delivered on a Political Communication panel (for her co-authored paper (with Kyle L. Saunders and Christina E. Farhart) titled "Conspiracy Endorsement as Motivated Reasoning: The Moderating Roles of Political Knowledge and Trust"). She has published articles in journals such as the American Journal of Political Science, Journal of Politics, Political Psychology, and Public Opinion Quarterly. Her most recent research, on the antecedents of conspiracy beliefs, has been featured in The New York Times, Salon, The Washington Post, The Atlantic, National Public Radio, The Pacific Standard, and The Guardian.
The Bruce R. Andrews Lecture
Until he passed away on January 8, 2005 Bruce R. Andrews was Robert Blaine Weaver Professor Emeritus of Political Science. Bruce taught at Dickinson from 1960 until his retirement in 1992. Recipient of The John J. Curley and Ann Conser Curley Faculty Chair in 2003, Bruce was one of the college's most distinguished and influential professors in the last 50 years. Bruce was loved and respected by students, colleagues on the faculty and staff, and many friends he and his wife Margery and children Stephen, Mary-Margaret and Carolyn had and have in the Carlisle community. His warm and engaging personality, deep knowledge of American politics, commitment to the liberal arts and active role as a citizen brightened and informed everything he did at Dickinson. As a living memorial to the example Professor Andrews set as a teacher, mentor and friend, those who knew him have endowed the Bruce R. Andrews Fund to continue the kind of vibrant discussion of politics and public life to which Bruce devoted his life.
Video of the Lecture