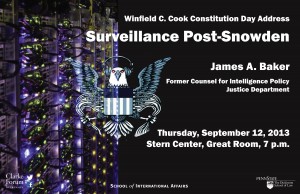 Former Counsel for Intelligence Policy and Associate Deputy Attorney General, Justice Department
Surveillance Post-Snowden
Thursday, September 12, 2013
Stern Center, Great Room, 7 p.m.
Baker will reflect on the recent disclosures of government surveillance activities. Formerly in charge of representing the government before the Foreign Intelligence Surveillance Court, Baker will provide his perspective on the challenging security and privacy issues facing us today.
This event is jointly sponsored by the Clarke Forum for Contemporary Issues, Penn State Dickinson School of Law and School of International Affairs
Biography
James A. Baker has worked on numerous national security matters during his career. A former federal prosecutor, he worked on all aspects of national security investigations and prosecutions, including in particular the Foreign Intelligence Surveillance Act (FISA), during his 17 year career at the U.S. Department of Justice. From 2001-2007, Mr. Baker served as Counsel for Intelligence Policy at the Justice Department, where he was head of the Office of Intelligence Policy and Review. In that position, he was responsible for developing, coordinating, and implementing national security policy with regard to intelligence and counterintelligence matters for the department. Mr. Baker provided the Attorney General, the U.S. Intelligence Community, and the White House with legal and policy advice on a range of national security issues for many years, and also conducted oversight of the Intelligence Community, including the FBI, on behalf of the Attorney General. In 2006, Mr. Baker received the George H.W. Bush Award for Excellence in Counterterrorism, the CIA's highest award for counterterrorism achievement. In 2007, Mr. Baker received NSA's Intelligence Under Law Award, the NSA Director's Distinguished Service Medal, and the Edmund J. Randolph Award, the Justice Department's highest award. Also in 2007, Mr. Baker was a Fellow at the Institute of Politics at the John F. Kennedy School of Government at Harvard University, and was a Lecturer on Law at Harvard Law School. Mr. Baker is currently Associate General Counsel with Bridgewater Associates, LP.
Winfield C. Cook Constitution Day Address
The annual address is endowed through the generosity of Winfield C. Cook, former Dickinson Trustee. Each year the Clarke Forum invites a prominent public figure to campus to speak on a contemporary issue related to the Constitution. The event celebrates the signing of the United States Constitution and commemorates Dickinson's connection to that document, through John Dickinson's participation as an original signer. Previous speakers have included Kenneth Starr, Ira Glasser, Lowell Weicker, Marjorie Rendell, Tom Ridge and Michael Chertoff.
Video of the Lecture