Chief Legal Counsel for the U.S. Department of State
A Smart Power Approach to International Law and National Security
Thursday, January 26, 2012
Apfelbaum Auditorium, Lewis Katz Hall, Penn State Law, Carlisle, 5:00 p.m.
Koh, a leading expert on public and private international law, national security and human rights, will discuss the threats, responses and accountability mechanisms that will define the future national security configuration.
The event is jointly sponsored by The Clarke Forum for Contemporary Issues at Dickinson College and the Penn State Dickinson School of Law. Link to Penn State Dickinson School of Law for additional information. This program is also supported by Betty R. '58 and Dan Churchill.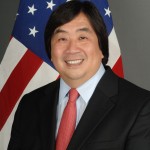 Biography (from Yale Law School)
Harold Hongju Koh is the Martin R. Flug '55 Professor of International Law (on leave, 2011-2012). On June 25, 2009, the U.S. Senate confirmed Professor Koh as Legal Adviser to the United States Department of State.
He began teaching at Yale Law School in 1985 and served from 2004 until 2009 as its fifteenth Dean. From 1998 to 2001, he served as U.S. Assistant Secretary of State for Democracy, Human Rights and Labor, and previously had served on the Secretary of State's Advisory Committee on Public International Law. Before joining Yale, he practiced law at Covington and Burling from 1982-83 and at the Office of Legal Counsel at the Department of Justice from 1983-85.
Professor Koh is a leading expert on public and private international law, national security law, and human rights. He has argued before the United States Supreme Court and he has testified before the U.S. Congress more than twenty times. He has been awarded eleven honorary doctorates and three law school medals and has received more than thirty awards for his human rights work. He is recipient of the 2005 Louis B. Sohn Award from the American Bar Association International Law Section and the 2003 Wolfgang Friedmann Award from Columbia Law School for his lifetime achievements in International Law. He is author or co-author of eight books, including Transnational Litigation in United States Courts, Foundations of International Law and Politics (with O. Hathaway); Transnational Legal Problems (with H. Steiner and D. Vagts), Transnational Business Problems (with D. Vagts and W. Dodge), and The National Security Constitution, which won the American Political Science Association's award in 1991 as the best book on the American Presidency. He was also the editor of The Justice Harry A. Blackmun Oral History Project (1994-95). He has published more than 150 articles on international human rights, international business transactions, national security and foreign affairs law, international trade, international organizations, international law and political science, and procedure.
He is a Fellow of the American Academy of Arts and Sciences and the American Philosophical Society, an Honorary Fellow of Magdalen College, Oxford, a former Visiting Fellow at All Souls College, Oxford, and a member of the Council of the American Law Institute. He has held fellowships from the Guggenheim Foundation and the Century Foundation. He has sat on the Board of Overseers of Harvard University and sits on the Boards of Directors of the Brookings Institution, Human Rights First, the American Arbitration Association, and the National Democratic Institute. He has been named one of America's "45 Leading Public Sector Lawyers Under The Age of 45" by American Lawyer magazine and one of the "100 Most Influential Asian-Americans of the 1990s" by A magazine.
A Korean-American native of Boston, he holds a B.A. degree from Harvard College and B.A. and M.A. degrees from Oxford University, where he was a Marshall Scholar. He earned his J.D. from Harvard Law School, where he was Developments Editor of the Harvard Law Review, and served as a law clerk for Justice Harry A. Blackmun of the United States Supreme Court and Judge Malcolm Richard Wilkey of the U.S. Court of Appeals for the D.C. Circuit.