Professor of Political Science and Director of the Canada Centre for Global Security Studies and the Citizen Lab at the Munk School of Global Affairs, University of Toronto
A Perfect Storm in Cyberspace
Wednesday, February 1, 2012
Stern Center, Great Room, 7:00 p.m.
What was once a domain characterized by openness and the free exchange of ideas, cyberspace is being re-shaped by technological changes, a growing underworld of cyber crime, a burgeoning cyber security industrial complex that feeds a cyber arms race, and an increasingly intense geopolitical contest over the domain itself.
Together, these driving forces are creating a kind of "perfect storm" in cyberspace that threats to subvert it entirely either through over-reaction, the imposition of heavy-handed controls and through partition or cantoning.
To restore cyberspace as an open global commons will require a multi-layered strategy, from the local to the global.
Drawing from the research and other activities of the Citizen Lab at the Munk School of Global Affairs, University of Toronto — including the OpenNet Initiative and the Information Warfare Monitor — Ron Deibert discusses the "Coming Perfect Storm in Cyberspace" and what is to be done to prepare for it.
The event is jointly sponsored by The Clarke Forum for Contemporary Issues, Penn State Dickinson School of Law, the School of International Affairs, in addition to the Department of Math and Computer Science.
Ronald Deibert's Biography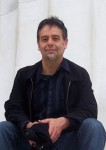 Related Links:
http://deibert.citizenlab.org/